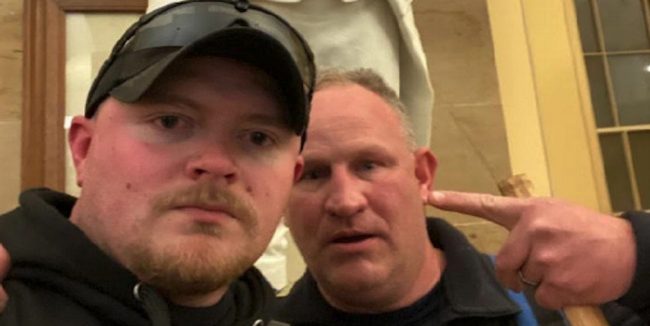 During national news coverage of the aforementioned events, video footage which appeared to be captured on mobile devices of persons present on the scene depicted evidence of violations of local and federal law, including scores of individuals inside the U.S. Capitol building without authority to be there.
According to information the FBI has reviewed, after 2:00 p.m., but before the joint session of Congress resumed at 8:00 p.m., the defendants Thomas Robertson and Jacob Fracker were photographed in the Capitol Building making an obscene statement in front of a statute of John Stark
At the time they were photographed, the defendants were off-duty from their positions as police officers with the Rocky Mountain Police Department in Rocky Mount, Virginia. In social media posts, Defendant Robertson is quoted as saying, "CNN and the Left are just mad because we actually attacked the government who is the problem and not some random small business …
The right IN ONE DAY took the f***** U.S. Capitol. Keep poking us." He also stated that he was "proud" of the photo in an Instagram Post that was shared to Facebook, because he was "willing to put skin in the game"
A now-deleted Facebook post by Defendant Fracker containing the caption, "Lol to anyone who's possibly concerned about the picture of me going around… Sorry I hate freedom? …Not like I did anything illegal…y'all do what you feel you need to…" .
In a statement to Newsweek, Defendant Robertson admitted that he and Defendant Fracker sent the photo to their police department colleagues, and after it was leaked to social media he reposted it on his own Facebook page.
It has also been reported that Robertson stated that he broke no laws, did not know about the violence, and that he had been escorted "in" by the Capitol Police. Robertson made these claims notwithstanding his previous posts that he had "attacked the government" and "took the f**** Capitol."
Moreover, at that date and time, the United States Capitol was on lockdown and the defendants' presence inside was without lawful authority.