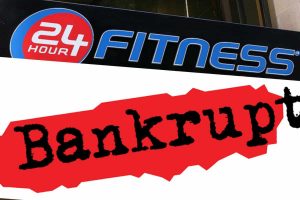 COVID- 19 has forced another retail chain to go out of business. 24 Hour Fitness has filed for bankruptcy after the COVID-19 pandemic forced its facilities to  shut-down during the pandemic.
24 Hour Fitness is filing  Chapter 11 filing  and has secured  $250 million in funding to help reopen some locations and looks to close most of its locations permanently. The gym just closed  100 US locations in 14 states. It  currently has approximately 300 clubs remaining with future closures at various locations.
Since COVID-19 and stay at home orders Gold's Gym  filed for bankruptcy in May. Gold's Gym was forced to temporarily closes 700  of its global locations.
Competition in the industry with lower priced gyms such as Planet Fitness, Inc. (PLNT) NYSE and in-home workout solutions offered online have driven down other chains membership growth, drastically reducing cash flow. Companies like Peloton Interactive, Inc. (PTON) Nasdaq, an in-home fitness cycle equipment maker that offers online spinning classes have also taken membership away from traditional health clubs for the sheer convenience of offering a workout that can be done at home.
24 Hour Fitness is a privately owned and operated fitness center chain headquartered in San Ramon, California. 24 Hour Fitness USA, Inc. announced Chris Roussos has been named Chief Executive Officer in  2017. 24 Hour Fitness® is owned by AEA Investors, Ontario Teachers' Pension Plan and Fitness Capital Partners.  During his career, Roussos has driven the success of fast-growth, multi-unit companies. Most recently, he served as CEO of Epic Health Services, and his rise from business entrepreneur to head of private equity backed companies has earned industry recognition. Source: https://www.24hourfitness.com/company/press_room/press_releases/2017/20170516.html
CWEB.com is not registered as an investment adviser with the U.S. Securities and Exchange Commission. Rather, CWEB.com relies upon the "publisher's exclusion" from the definition of investment adviser as provided under Section 202(a)(11) of the Investment Advisers Act of 1940 and corresponding state securities laws.