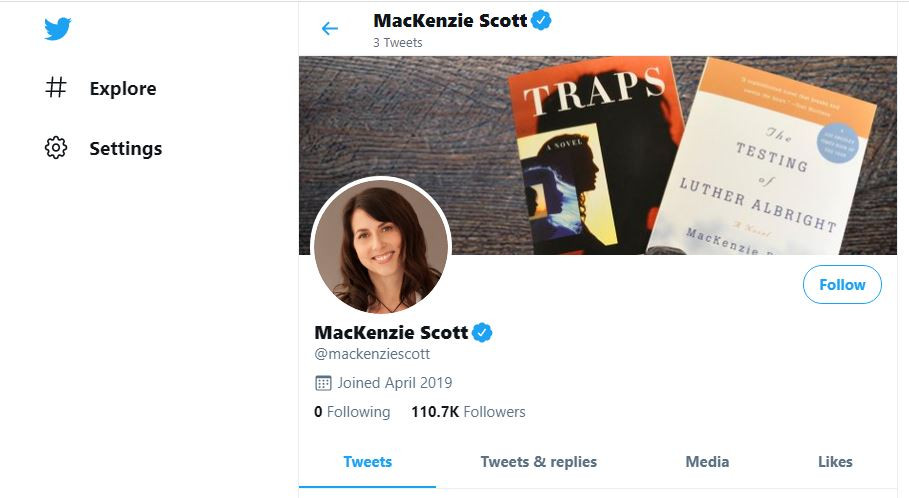 On Tuesday MacKenzie Scott announced the second installment of her charitable donations to 384 organizations who will receive a total of approximately $4.2 billion. Four months ago she gave away $1.7 billion to 116 organizations. She has earlier said that her plan is to donate a major part of her fortune.
According to Bloomberg Billionaires Index Scott is the 18th richest person in the world. The pandemic caused Amazon shares surge to great heights increasing the value of the 25% stock she received, following her divorce with Bezos. Her net worth is $60.7 billion.
"The pandemic has been a wrecking ball in the lives of Americans already struggling," Scott said in a medium post. She added, "Economic losses and health outcomes alike have been worse for women, for people of color, and for people living in poverty. Meanwhile it has substantially increased the wealth of billionaires."
Scott also added a list of hundreds of organizations, with a wide diverse portfolio from education, civil rights, advocacy, food banks, women, entrepreneurs etc. who had received donations. The author and philanthropist said that they release funds after doing research as well as accepting suggestions from experts.
She also said, "Because our research is data-driven and rigorous, our giving process can be human and soft."
In 2019, she had committed to "The Giving Pledge" initiative. Warren Buffet and Bill and Melinda Gates have launched this program, which encourages the richest people in the world to contribute a major part of their fortunes to charitable causes.