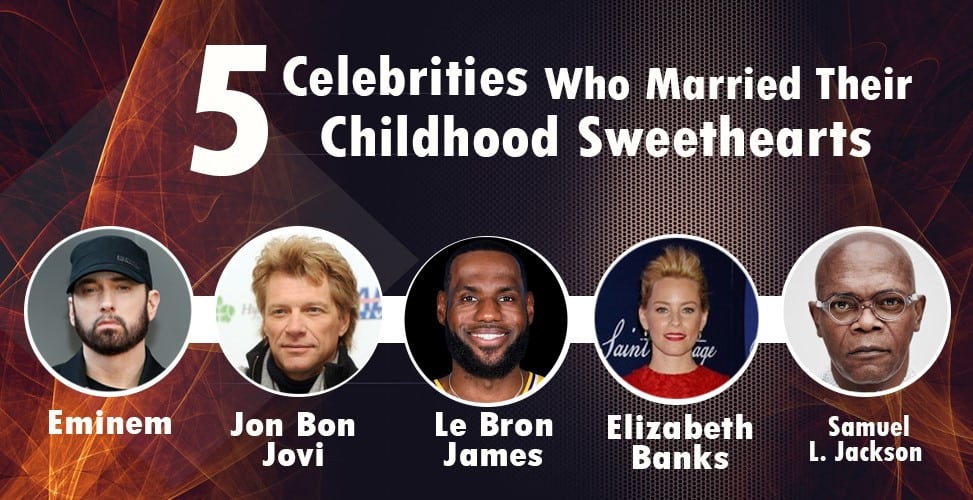 All of us dream of finding our one true love while growing up and imagine a perfect life together that will last till the end of time. Unfortunately, not many of us get to see that dream realized, and many times, life has other plans in store. Getting older means making tough choices that may not always guarantee happiness; however, it needs to be done.
Celebrities have it especially challenging since being in the spotlight and making it big can be burdensome on relationships, no matter how stable they may seem. But still now and again, we find couples who have beaten the odds and took the plunge by marrying their childhood sweethearts. The fairy tale ending may have come to an end for some, but others are still going strong.
Eminem
It was a long dramatic saga for the rapper and his now ex-wife Kim Scott. Coming from unstable households, they found comfort in each other and got married in 1999. However, fame and addiction put a break on their happiness, and they got divorced in 2001.
Jon Bon Jovi
Bon Jovi got hitched to his high school crush in Las Vegas by taking a secret trip while on tour. Bon Jovi might be a legend, but he's very much a family man and claims that it's pure luck that he became the poster boy for what a good marriage looks like.
Le Bron James
The LA Lakers superstar LeBron James and Savannah have the perfect meet-cute for those of us looking for love. They dated for 12 years and got married in 2013 after ten years into James' stellar NBA career.
Elizabeth Banks
Elizabeth Banks married met her husband when she was just 18, and even though she didn't think she would marry him, she couldn't deny that their bond was strong. They have worked hard to stay together and have been married since 2003.
Samuel L. Jackson
Hollywood has seen its fair share of weddings and divorces, but Samual L.Jackson and actress LaTanya Richardson are a rare breed who have made their marriage work despite hectic schedules and being in the public eye.
Everyone says that there are no guarantees in love, and while that is true, it does take a bit more investment and attention to make a marriage work. Sometimes, after all that, it simply isn't meant to be. All that's up to us is to keep hoping and loving!