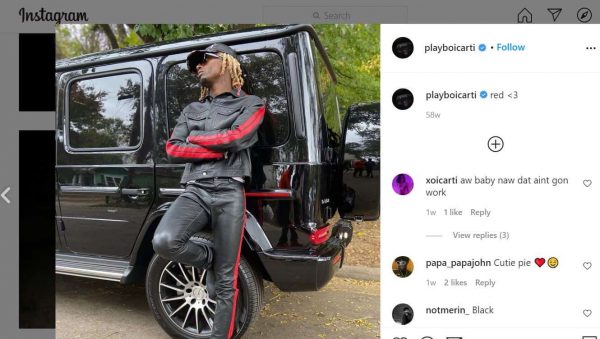 As a follow up to his popular album Die Lit, which was No. 3, on the US Billboard 200 Chart, American rapper  Playboi Carti  has officially announced that he will drop his latest album titled Whole Lotta Red on Friday, December 25, Christmas Day. He has added a pre-order link and plans to drop some merch as well. He has been unfortunate in his career as many of his tracked have been leaked online before official releases.
Way back in August 2018, Carti had first unveiled this title, "Whole Lotta Red." In an interview with GQ in March 2019. The rapper had mentioned that Virgil Abloh, would be the creative director of this album.
Carti told Ben Dandridge-Lemco – THE FADER, that he had begun working on "Whole Lotta Red" at the end of 2018. The album was recorded at DJ Drama's Mean Street Studios in Atlanta as well as at his home. In April he released @MEH.
In 2020 he made an appearance on Drake's "Pain 1993" a part of the rapper's "Dark Lane Demo Tapes." He also appeared on Lil Yachty's "Flex Up."
In 2019, he had a few guest appearances including Solange's "Almeda" and Mustard's "Baguettes in the Face."
He featured in Tyler, the Creator's "EARFQUAKE" and SAFE's "Paid in Full." He also collaborated with Offset for "100 Racks."
Photo https://www.instagram.com/playboicarti/