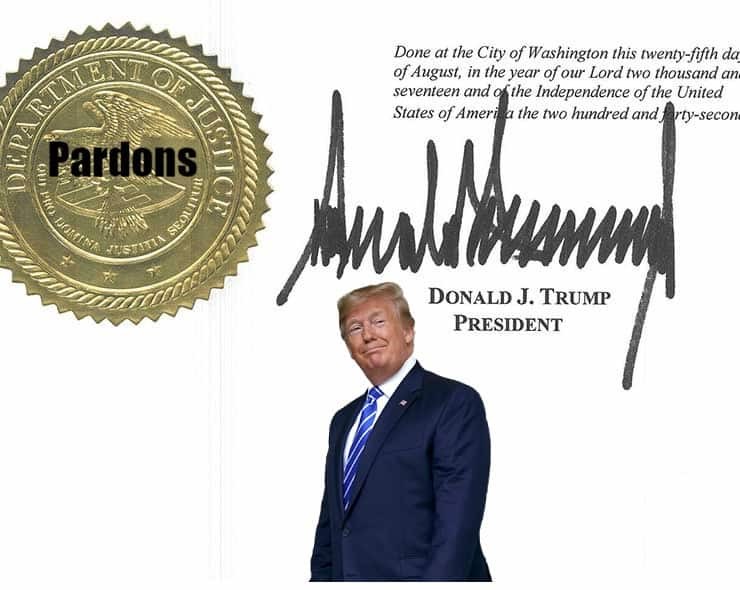 Ex President Donald Trump has pardoned an eclectic group of Americans over the past four years of his term as President of the United States of America. The one common thread that runs through all of them are that they have a link to his personal or professional life or to the lives of his close family or friends or political donors.
Some of the financial bigwigs are as follows:
Conrad Moffat Black
Michael Robert Milken
Charles Kushner
Anthony Levandowski
Elliot Broidy
Bob Zangrillo
Albert Pirro — the ex-husband of Fox News host Jeanine Pirro
Some of the lesser known businesspeople are as follows:
Paul Harvey Pogue
Robin Hayes
George Gilmore
Conrad Moffat Black is a newspaper magnate who was in charge of Hollinger International in the nineties. He was convicted of mail fraud as well as obstruction of justice in 2007. He served 42 months behind bars and was pardoned in 2019.
Michelle Robert Milken was called the junk bond king. He was convicted on fraud charges: securities fraud, mail fraud and tax fraud. He was pardoned in 2020.
Charles Kushner, father of Jared Khushner, Trump's son-in-law and ex-adviser and father-in-law of Trump's daughter, Ivanka Trump also an adviser to the former president, was convicted for making false statements and for fraud. He completed his sentence in 2006. He was pardoned in 2020,
Anthony Levandowski was an engineer at Google who was convicted for stealing trade secrets in August 2020. He was convicted but he didn't serve term because of the coronavirus. Peter Thiel, PayPal co-founder and Trump ally supported his pardon.
Elliot Broidy pleaded guilty on charges of conspiring to break foreign lobbying laws, last year and was pardoned by Trump before he demoted office. He was also a prominent fundraiser for Trump.
Bob Zangrillo was accused of bribery and fraud when he tried to obtain a college seat at The University of South California for his daughter. He pleaded non guilty and his trial date was set for September. He was also pardoned by Trump.
Paul Harvey Pogue underpaid taxes. He and his family have donated to Trump's campaign and the amount is said to be over $200,000.
Robin Hayes is a North Carolina businessman, was part of a corruption scandal. He is a prominent donor and ex-chairman of the state's Republican Party.
George Gilmore was convicted of payroll fraud. He was also well known among  New Jersey Republicans.
Mr. Trump pardoned Albert Pirro Jr, the ex-husband of Ms Jeannine Pirro of Fox News, a White House spokesperson said after the president landed in Florida. Mr Albert Pirro was convicted of conspiracy and tax evasion in 2000.
CNN said that Jeannine Pirro was in touch with the president after her ex-husband Albert Pirro – a lawyer who had once represented Trump – was missing from the dozens of pardons issued in the early hours of Wednesday morning.
Trump has been widely criticized for granting clemency to those with whom he has personal or political connections. He has also bypassed the Justice Department process through which clemency requests pass through for consideration.
It is unclear if Trump and his family, Rudy Giuliani have also pardoned themselves but keeping it out of public view for future legal tactics and maneuvers. You are not required to announce pardons and you can keep them private.