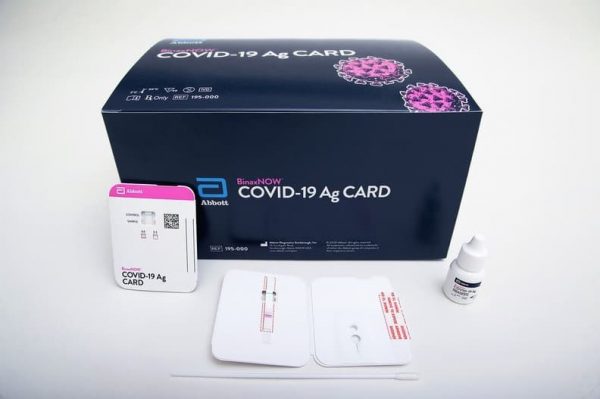 Abbot Labs stock is up due to the new 15- minute test for the Coronavirus.
$111.46
Up 8.278.01% as of 10:41 AM August 27th 2020.
Cue our sixth COVID-19 test, the BinaxNOW™ COVID-19 Ag Card rapid antigen test, which has received emergency use authorization (EUA) from the U.S. Food and Drug Administration (FDA). This test offers results in 15 minutes and is available as an aid to diagnose the virus that causes COVID-19.
The BinaxNOW test can be displayed on our new optional app — available at no charge — for iPhone and Android devices called NAVICA™. This first-of-its-kind app will allow people who test negative to have a temporary encrypted digital health pass that displays their results. Source: Abbot Labs
HOW IT WORKS:
A healthcare provider swabs the patient's nose and twirls that sample on a test card with a testing reagent added. After waiting 15 minutes, the healthcare provider reads the results directly from the testing card. One line indicates a negative result; two lines indicate a positive result. Source: FDA
WHERE IT CAN BE USED:
This test could be used at point-of-care settings, like a doctor's office, emergency room or some schools.  This test has been authorized for use in patients suspected of COVID-19 by their healthcare provider within seven days of symptom onset. Given the simple nature of this test, it is likely that these tests could be made broadly available. According to the test manufacturer, Abbott, it plans to make up to 50 million tests available monthly in the U.S. at the beginning of October 2020. . Source: FDA