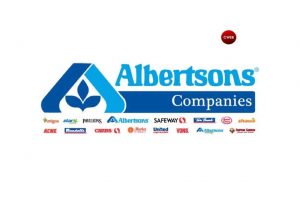 Albertsons (ACI)  began trading on the New York Stock Exchange on June 26-2020 – ticker symbol "ACI." Thursday Albertsons (ACI)  priced its IPO at $16 a share, lower than the $18-to-$20 price range it was seeking. The offering values its shares around $9.3 billion, excluding its $8.5 billion debt pile as of the end of February.
Due to the pandemic Albertsons' sales in March and most of April were up 34% from last year.
Twenty-four banks underwriting the deal are led by Goldman Sachs & Co., Bank of America Securities, J.P. Morgan and Citigroup.
Albertsons is one of the largest food and drug retailers in the United States, with both a strong local presence and national scale. Albertsons operates stores across 34 states and the District of Columbia under 20 well-known banners including Albertsons, Safeway, Vons, Pavilions, Randalls, Tom Thumb, Carrs, Jewel-Osco, Acme, Shaw's, Star Market, United Supermarkets, Market Street and Haggen. Source: Click Here
Vivek Sankaran PRESIDENT & CEO was named President & CEO of Albertsons Companies, Inc. in April 2019. Vivek most recently served as CEO of PepsiCo Foods North America. Prior to that, he served as the company's president  and chief operating officer, a position he was named to in 2016.  Over the last 3 years, he has led Frito Lay to industry-leading growth by remaining focused on innovation, technology and execution. Over his ten-year career at PepsiCo, in addition to leading Frito-Lay, Vivek also served as the chief commercial officer for PepsiCo North America, Chief Customer Officer of Frito Lay, and as the Senior Vice President of Strategy for PepsiCo. Source: Click here.
CWEB Analysts see the stock as a potential for long and short term growth with huge rewards in the post and current pandemic conditions and upwards of $30 by 2021