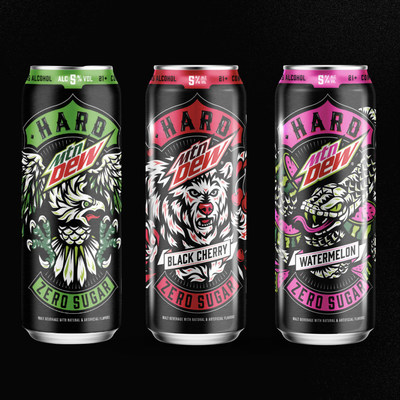 PepsiCo and Boston Beer said that they were collaborating to make a new drink which would be called Hard Mtn Dew. This new drink will be an alcoholic version of the popular Mountain Dew by the beverage giant. Boston Beer will take charge of developing and producing the drink while PepsiCo will sell, market and deliver the product to shelves as a new entity in early 2022. Executives said that the brands had come together with the new product as consumers' tastes were evolving.
The current details available about the new beverage are as follows:
It will be a flavored malt-based beverage.
It will contain five percent alcohol.
Early images show that it will have a zero-sugar base.
There will be three flavors: original, black cherry and watermelon.
Last year Coca Cola had announced that it would create an alcohol beverage called Topo Chico Hard Seltzer with Molson Coors Beverage. In October, PepsiCo followed suite and its CEO Ramon Laguarta told analysts that they would consider entering the alcohol-based drinks category. In June, PepsiCo filed an application for a trademark for Rockstar-branded beer and hard seltzer.
Boston Beer has been struggling with its products and its projections for Truly hard seltzer in its recent quarter results projections were much higher than actual sales and the brewer's stock slid down by 26 percent in a single day making the company cut its full-year forecast. On Tuesday, Boston Beer saw a small slide of 2 percent. The total fall in stocks since the beginning of the year is now about 32 percent and its market value is $8.2 billion.
The IWSR, an industry tracker said that alcohol consumption is at its highest rate in almost 20 years, but beer consumption has fallen by 2.8 percent.
PepsiCo, on the other hand, saw. a slight increase in trade on the same day. The beverage giant has gained about 4 percent this year and its current market value is $213.3 billion.
Early this year, PepsiCo launched Mtn Dew Rise Energy endorsed by LeBron James, which was the first PepsiCo endorsement by the NBA superstar. The beverage giant has been looking to elevate the Mountain Dew brand as it is in the fifth place according to Euromonitor. Hard Mtn Dew will be marketed by PepsiCo to adults of legal age and the drinks giant will follow all the rules required to market alcohol beverages.
Image Courtesy Boston Beer