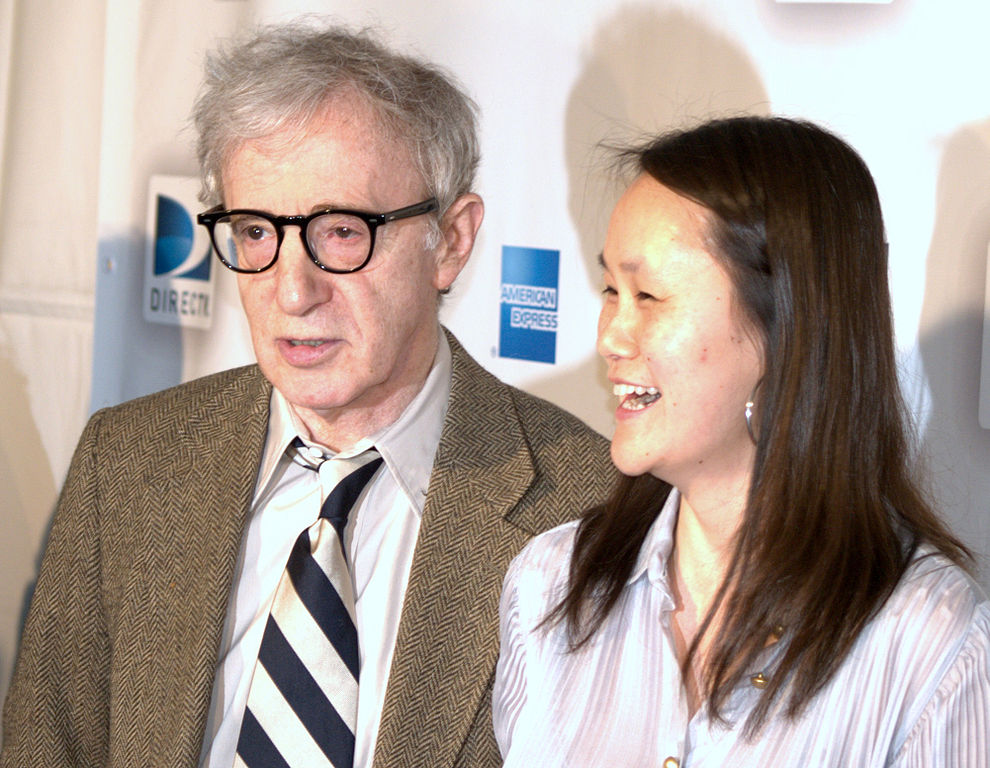 Allen v. Farrow (7/10)
by Tony Medley
4 episodes
TV-MA
Ah, advertised as an HBO documentary television miniseries directed by Kirby Dick and Amy Ziering that explores an allegation of sexual abuse made against Woody Allen in  1992, it is so one-sided that it turns out to be more of a propaganda piece than a "documentary."
If watched in a vacuum, it is a damning indictment of Woody Allen but it only tells one side of the tale. Mia tells her story and it is backed up by Daughter Dylan mouthing allegations, actions allegedly performed by Woody. After watching all four episodes, one comes away with the idea of guilt beyond a shadow of a doubt.
However, after watching the series and being relatively convinced that Woody was a bad guy, I read Woody's autobiography, "Apropos of Nothing," published in 2020. Woody was not interviewed by Dick and Ziering, nor was anybody presented who told Woody's side of the case in HBO's doc. In his book, however, he presents his defense in detail, and it is compelling.
I was never much of a Woody Allen fan of his movies. Except for  Annie Hall  (1977) and  Deconstructing Harry  (1997), most of them were pretty much of a bore. And I understood the philosophy he writes in his book that he never watches his movies after they are in the can. But when he lost financing and had to go to Europe, starting with  Match Point  (2005), he produced one entertaining movie after another, topped with  Midnight in Paris  (2011) and earned his reputation as a talented  auteur.
Without going through all of the allegations in  Allen v. Farrow, the most damning part about Allen is daughter Dylan's personal testimony of what happened. In Allen's book, he presents evidence that Dylan's testimony is false. Allen claims, and he is backed up by his son Moses, that Dylan was coached by Mia strenuously to go over the false story time and again, one time when she was stark naked, until she got it to Mia's satisfaction. He also presents evidence, validated by two of Mia's children, that Mia was a terrible "Mommy Dearest"-type (Christina Crawford's 1978 exposé of her mother Joan Crawford) mother, and that she abused and neglected her adopted children, especially Soon Yi, who became Woody's wife. Woody was also exonerated by a trial and a psychological report by Yale University.
Woody's marriage to Soon Yi has been enormously controversial. But he explains it in a rational, understandable, manner that makes perfect sense. And, as an aside, although Woody does not mention this, Charlie Chaplin was 54 years old when he married Eugene O'Neill's daughter, Oona, when she was only 18 (breaking JD Salinger's heart in the process). They had a long and successful marriage that produced eight children living in Switzerland after Chaplin was banned from the United States. Woody and Soon Yi have been married for 24 years without a hint of trouble.
It is hard to give this miniseries a rating because I believe it is propaganda. But it is interesting. Frankly, I am astonished that HBO would present such a stunning, one-sided piece of agitprop, if you will, without some sort of warning. It is almost as if HBO is a co-conspirator against Woody.
However, my recommendation is to also read Woody's autobiography, which is well written and highly readable aside from the part about Mia Farrow, and make up your own mind.
I am happy to have you forward this to your friends. However, there has been a problem of people to whom my submissions have been forwarded "unsubscribing." The result is that you are removed from the list instead of your friend. Therefore, if you want to forward this, please click the link below, "forward to a friend" to do your forwarding. That way someone cannot unsubscribe you without your knowledge or consent.
Tony Medley is an attorney, columnist, and MPAA-accredited film critic whose reviews and articles may be read in several newspapers and at rottentomatoes.com, CWEB.com, Movie Review Query Engine (mrqe.com), and at  www.tonymedley.com. His most recent book is "Learn to Play Bridge Like a Boss," the most complete "all in one" book for beginners and also for advanced players. He is also the author of three books, UCLA Basketball:The Real Story, Sweaty Palms: The Neglected Art of Being Interviewed, the first book ever written on the interview for the interviewee and still in print after more than thirty years, having sold over a half million copies, and The Complete Idiot's Guide to Bridge, which has sold over 100,000 copies. He is an American Contract Bridge League Silver Life Master and an ACBL accredited director.
Photo Credit: