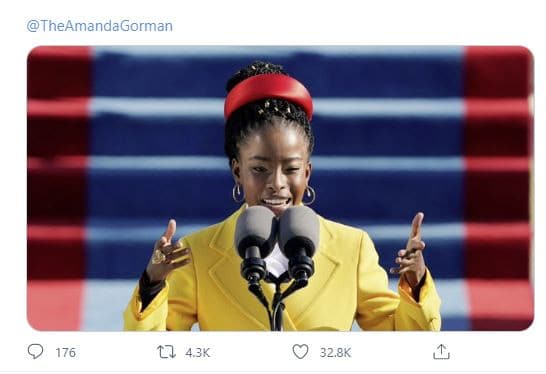 Amanda Gorman created history by becoming the youngest ever inaugural poet at the Presidential Inauguration on January 20, 2021. Although she is well known for penning lines on historic occasions this timelines have been penned about her that will go down in history for years to come as she delivered " The Hill We Climb" an original composition.
Before her performance at the Capitol, in front of the President-elect and the Vice President-elect and the nation Gorman had spoken to "CBS This Morning" co-host, Anthony Mason.
She said, "It's amazing…Especially at my age. No one really gets to say, 'At 22, I am the inaugural poet.'"
She also said that although she looked at the words of President Abraham Lincoln and Dr. Martin Luther King for inspiration, it was the Capitol riot that set the creative juices flowing as she put "pedal to the metal."
Here's the full poem from Amanda Gorman, who is the youngest poet to ever read at an inauguration.

"Somehow we've weathered and witnessed a nation that isn't broken, but simply unfinished." pic.twitter.com/0Hxeuqnt3d

— BuzzFeed News (@BuzzFeedNews) January 20, 2021
The riots made her write a message about "hope and unity" as well as considering the cracks that needed to be filled.
The talented young woman grew up in Los Angeles in a single parent home, with her mother Joan, an English teacher. She had a speech impediment that continued through college and this was one of the reasons which led her into a poetic journey of penning words. She overcame her speech impediment with practice and determination and stood before the nation and delivered a rousing rendition of her original poem, "The Hill We Climb."
At 16, Amanda Gorman became the Youth Poet Laureate of Los Angeles. At 19 she became the nation's First Youth Poet Laureate. She graduated from Harvard in 2020. At 22, she electrified leaders and the nation with her soulful yet strident, real yet lyrical, hopeful yet in your face words as the Presidential Inauguration.
For Gorman "Poetry is a weapon" as well as an instrument of social change. She also says that it has  existed as a traditional method that is used for "truth-telling." The young woman said that she intends to run for office of POTUS in 2036.