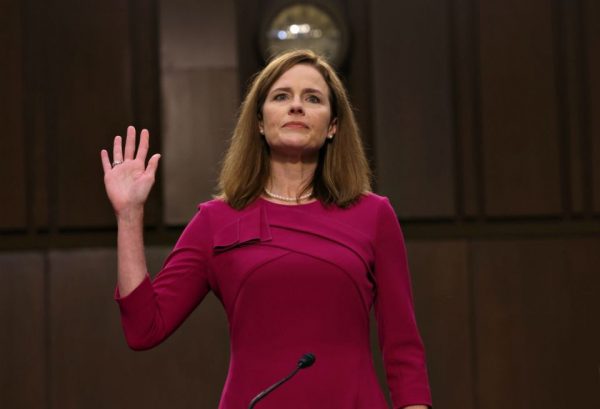 Supreme Court Justice Clarence Thomas administered the constitutional oath to the controversial nominee forty eight year old  Amy Coney Barrett on Monday evening. She took the oath at a White House ceremony, which included President Trump and many Republican senators.
This confirmation was another acrimonious issue as she was nominated and confirmed 52-48 so close to Election day, despite Democrats' protests. The position fell vacant due to the demise of Supreme Court Judge Ruth Bader Ginsberg.
President Trump thanked Senate Majority Leader Mitch McConnell and called it a "momentous day." McConnell said, "The Senate is doing the right thing. We're moving this nomination forward, and colleagues, by tomorrow night we'll have a new member of the Supreme Court."
Senate Minority Leader Chuck Schumer, D-N.Y., said that the nomination process was a "cynical power grab." The Democrats tried to slow down the process but the Republicans have a majority in the Senate and it was a foregone conclusion that she would be nominated and confirmed.
Amy Coney Barrett's confirmation strengthens the conservative majority in the Supreme Court. She will be in charge of serious issues including abortion, health care and inclusive rights for marginalized communities.
Image Credit Wiki