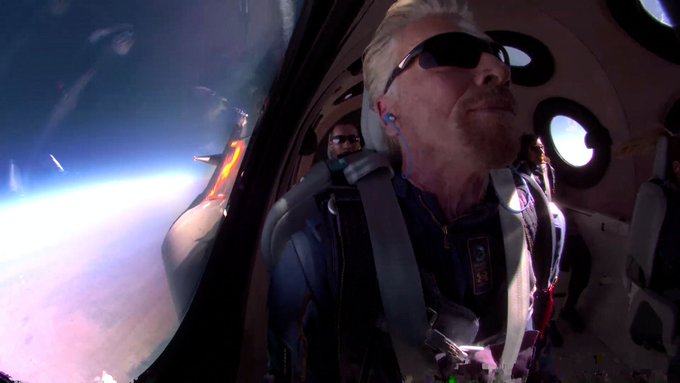 The space race among billionaires has been won by Richard Branson as he left Jeff Bezos behind by nine days and Elon Musk by n days. He successfully went to space on July 11 and came back with more wonder than before, after his first space flight. He also became the second oldest man to travel to space. He flew to space a week short of his 71st birthday.
After the Virgin Galactic spacecraft reached earth, to be exact the runway at Spaceport in New Mexico, he pumped his fists in the air. He described the trip as an "experience of a lifetime." He was welcomed back to earth by his family including his wife Joan, his daughter Holly and her twins Etta and Artie, his son Sam and granddaughter Eva-Deia.
Before leaving for space, Branson posted a photo of himself with Elon Musk, another billionaire space tourism rival. He tweeted that it was a beautiful day to go to space. He signed the astronaut logbook and quipped "The name's Branson. Sir Richard Branson. Astronaut 001. License to thrill! paraphrasing the famous British spy James Bond.
Virgin Galactic video streamed live the mothership of the spacecraft in the air at about 3.45 p.m. BST. The aircraft reached 40,000 feet within 15 minutes. The spacecraft was released and powered up to reach 250,000 feet.
The crew in the spacecraft VSS Unity reached speeds of  Mach 3 as they reached the edge of space. Soon, they experienced weightlessness. The spacecraft then returned to earth and as it reached the earth's atmosphere, earth's gravity came into play and the spacecraft touched ground at approximately 4.40 p.m.
Branson and his crew spent about three minutes in spaces, experienced weightlessness and saw brilliant views of the earth from space.
Michael Colglazier, CEO, Virgin Galactic said that it was a landmark moment for Virgin Galactic, for the commercial space industry and for their founder Richard Branson. He also said that Sunday's flight would open up "space to all."
Richard Branson's space flight came nine days before Jeff Bezos' scheduled flight on July 20, when he will fly on the new Shepard spacecraft developed by his company Blue Origin. As the space commercial race continues between the billionaires Branson has earned bragging rights by becoming the first one to reach space.
Photo Twitter

Read full research on SPCE by CWEB.com