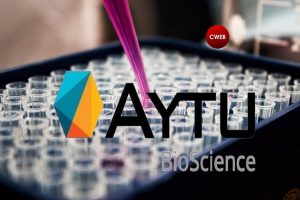 On Monday, June 29, the newly reconstituted Russell 3000 will open back up with the rest of the equity markets, and specialty pharmaceutical company Aytu BioScience made the cut, along with plenty of other new additions to the index.
Aytu BioScience managed to gain a lot of attention recently because of its latest collaborative development with Los Angeles-based Cedars-Sinai Medical Center on a potential Covid-19 treatment and cure. The Healight, as the treatment method is called, received some political backlash after being alluded to by President Trump. However, the backlash is now mostly settled, and people are beginning to take a serious look at Aytu BioScience, the work the company is doing, and its growing potential for investors.
Not only is the revolutionary treatment for Covid-19 garnering traction for Aytu, but financially, the company is in a great position for continued growth. Run by two brothers who are experienced in pharmaceutical entrepreneurship, Josh and Jarrett Disbrow, this company is believed by many to follow in the same footsteps as one of their other ventures, Arbor Pharmaceuticals, which the brothers grew to $127 million valuation in a little less than five years.
Now, their newest company Aytu BioScience seems like it could be on the same track, although it wasn't looking too promising at the beginning of March 2020. Then the coronavirus pandemic hit. While the pandemic hasn't been good for most companies around the world, Aytu saw a huge jump in stock price because of it. This was due to the announcement of its deal with L.B. Resources Limited to be the exclusive distributor of the Covid-19 IgG/IgM Rapid Test, which caused a stock price spike of 322 percent.
At first, investors were wary of this jump, believing it was a last-ditch attempt to remain relevant and save the company from being delisted from NASDAQ. As it turns out, however, this Covid-19 test is actually one of the top tests in the market. It was even selected by the FDA as one of the 11 tests to be approved for Emergency Use Authorization. What's more, its ability to provide fast and accurate results without the use of specialty equipment makes it that much more appealing to customers, causing it to be a popular purchase and driving up revenue, which in turn drives up stock prices.
Speaking of revenue, Aytu also completed its acquisition of Innovus Pharmaceuticals in February, which added to the company's growing portfolio. This business move, along with its expansion into the Covid-19 testing and curing markets, has helped this company grow exponentially since this time last year, not to mention its other products like Natesto and Tuzistra XR, which are also becoming more successful.
According to Aytu's Third Quarter Fiscal 2020 Financial Report, the company's revenue increased by 243% compared to its third quarter in fiscal 2019. It even grew 157% just in the third quarter of fiscal 2020 alone, and that doesn't include revenue from the Covid-19 rapid tests, which the company began to see at the beginning of the fourth quarter. Quarter four will most definitely look even better as the company will see its first full quarter of revenue made from its acquisition of Innovus Pharmaceuticals, as well as begin to see revenue generated from its Covid-19 IgG and IgM Rapid Test, of which the first batch sold out within two weeks.
As for the Aytu's stock, it is currently trading at 2.05x FY 2021. However, Jack Zhang explains in his article for Seeking Alpha that if the company can reach 200 million shares outstanding by the end of fiscal year 2021, the company's stock would be on its way to a target price of $3.24, which is over a 100% increase from where it stands today. And now, with Aytu's appearance in the Russell 3000 index, this target could be that much more achievable.
But the potential in Aytu BioScience's future does not stop there. Along with acquiring Innovus Pharmaceuticals, Aytu also acquired Pediatric Portfolio from Cerecor Inc. Lately, rumors have been swirling around the internet that Aytu just might buy up the rest of Cerecor. Whether it is this move or the eventual advancement and commercialization of the Healight, it seems that Aytu has a brighter future ahead than most investors originally thought. This company is definitely one to keep an eye on in the markets.
Related Article https://www.cweb.com/aytu-will-be-a-solid-addition-to-your-covid-portfolio-given-its-recent-upgrade-to-a-strong-buy/
CWEB Analysts see the stock as a potential for long and short term growth with huge rewards in the post and current pandemic conditions and upwards of $5  by 2021