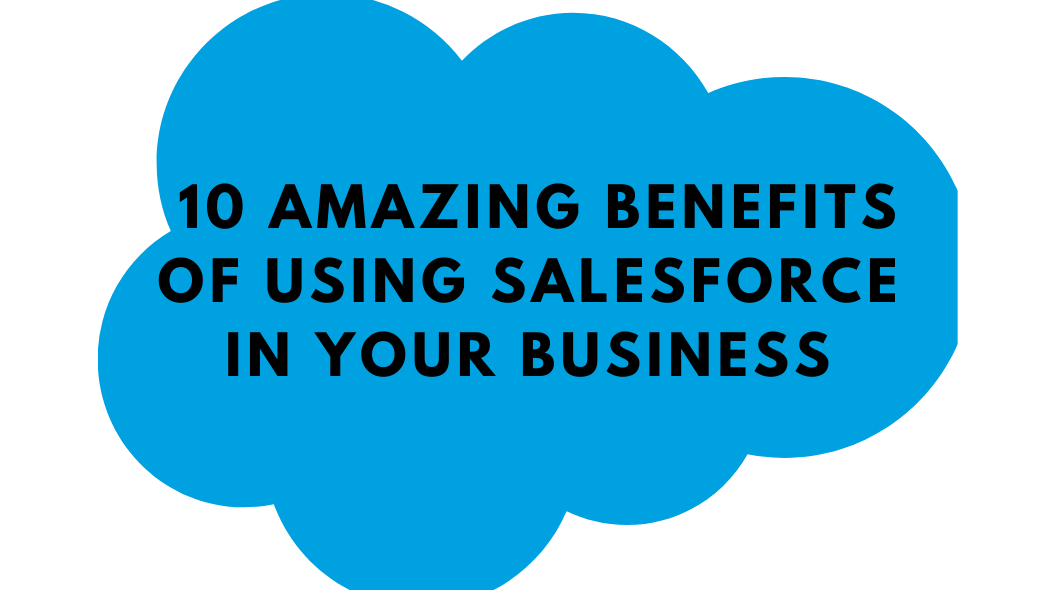 Due to its many advantages, Salesforce is one of the largest and most widely used cloud platforms in the world. Many individuals and professionals are starting to sign up for Salesforce training courses to gain the knowledge they need and gain tremendous benefits. In this article, we'll cover the top seven benefits of implementing Salesforce in your company.
1.    Customer's Information
One of the key benefits of using Salesforce is its ability to capture both qualitative and quantitative information. With Salesforce, you can access data for each lead, such as a. Account details, tasks, contact, and any other opportunities associated with a potential lead. This gives your company enough information that it can use to target potential customers. This is vital as it gives your company access to all of the data you need to organize your customer profiles. All the information of your customer is gathered at one place. You can easily track all desired customer data for a certain period of time, regardless of whether it has been delegated to different representatives or not. It creates a holistic approach to effectively managing your customer base and growing your business.
In addition, the ability to share customer data allows you and your employees to have a hassle-free job as you don't have to worry about meeting your customers in person or getting feedback. Each of your representatives can easily access the information they need to carry out important tasks. Salesforce is a digital update of physical tools like folders, files, and working with Excel spreadsheets. It's more practical, more complete, and faster to use.
2.    Account Planning
Having all the necessary customer data at hand enables your company to plan individual customer accounts; It offers a hands-on approach that connects with your customers. It also allows your reps to make any adjustments necessary for the best results. Use the To-Do List tool in the Salesforce app to plan your daily activities. You can also create reminders using the calendar tool; This allows other team members, e.g. B. Account Manager, follow your customers. It will also help remind team members of important tasks. Salesforce software also lets you keep track of the time spent on each customer account; This enables service companies to effectively manage the time spent with each customer to ensure fair treatment. Not a lot of time is paid for a particular customer.
3.    Time Management
The availability of comprehensive customer information as well as multiple planning resources will of course help you manage your time effectively. You have all the data you need to prioritize your clients' work and schedule tasks for different individual accounts.
4.    Team Work
Salesforce software also gives you a convenient way to communicate effectively with your teammates; This is achieved through the "Chatter" function, which allows you to exchange and discuss work progress with members of your team, including questions about customers, the territory, the organization of Salesforce training and other important topics. Chatter also lets you add different team members to accounts that require special attention. This, in turn, allows your team to set priorities and work schedules; This allows you to process more leads and increase sales.
5.    Accessibility
Due to the cloud-based nature of Salesforce, you can easily access it with your computer or smartphone anywhere there is internet service.
The Salesforce app has features that will keep you up to speed with your business and your employees from time to time. Therefore, Salesforce is a perfect tool for a proactive entrepreneur or business manager who wants to stay in touch with their team. Another major benefit of Salesforce is that all of your data is stored in the cloud, where you can access it anytime. There is no local server, no filing cabinet, etc.
It also allows your team to stay up to date on customer accounts and activity, regardless of their location.
6.    Personalized Interaction
Salesforce's wealth of information stored in the cloud enables businesses and businesses to create personalized services for their customers. According to a Forrester study, 77% of consumers typically choose, recommend, or pay more for brands that offer personalized services or interactions. Companies that use Salesforce in their business operations typically experience increased sales and better customer relationships.
To improve one-on-one interaction with customers, companies typically link Salesforce to the mobile radio system using a CTI tool. The CTI tool allows companies to have a common overview of their customers and potential customers. It also allows the automation of mobile CRM tasks such as call recording.
7.    Understand Valuable Data
Salesforce is an amazing CRM tool that helps companies understand customer data for peak performance. Salesforce's analytics capabilities help companies improve their marketing strategies and sales methodology. What works and what doesn't the companies who implement Salesforce have a broader view.
8.    Efficient Lead Management
With Salesforce, you can manage all your leads, deals, and opportunities on a consolidated platform. You no longer need to manage and track your Excel spreadsheets. With just one click, you can access all your associated contacts, opportunities, and leads. You can also create separate leads views based on region, sales, or types of merchandise purchased. You can also keep track of all your marketing opportunities, winning opportunities, and lost opportunities.
9.    Simple Task Execution
The Salesforce system allows companies to efficiently perform repetitive tasks; This leads to reduced workload, reduced risk, and increased work efficiency. Some of the daily tasks that are usually automated are call logs, emails, voicemail, scheduling, and priority settings.
10.                       Improved Reporting
Salesforce has made it very easy for you to create your archive reports and your custom dashboard with the right features and tools. You don't have to go through the stress of creating Excel spreadsheets, pie charts, and other charts. You can also have your reports in various formats such as matrix, tubular, or summary formats. You can also report on leads, accounts, opportunities, or other custom items.
In short, there are many benefits to Salesforce and many businesses. If you are new to Salesforce technology and would like to learn more about it, you can do online training courses as well as classroom courses for Salesforce. There are also Salesforce certification programs and Salesforce Training in Pune as well that you can participate in to obtain a certificates and knowledge.