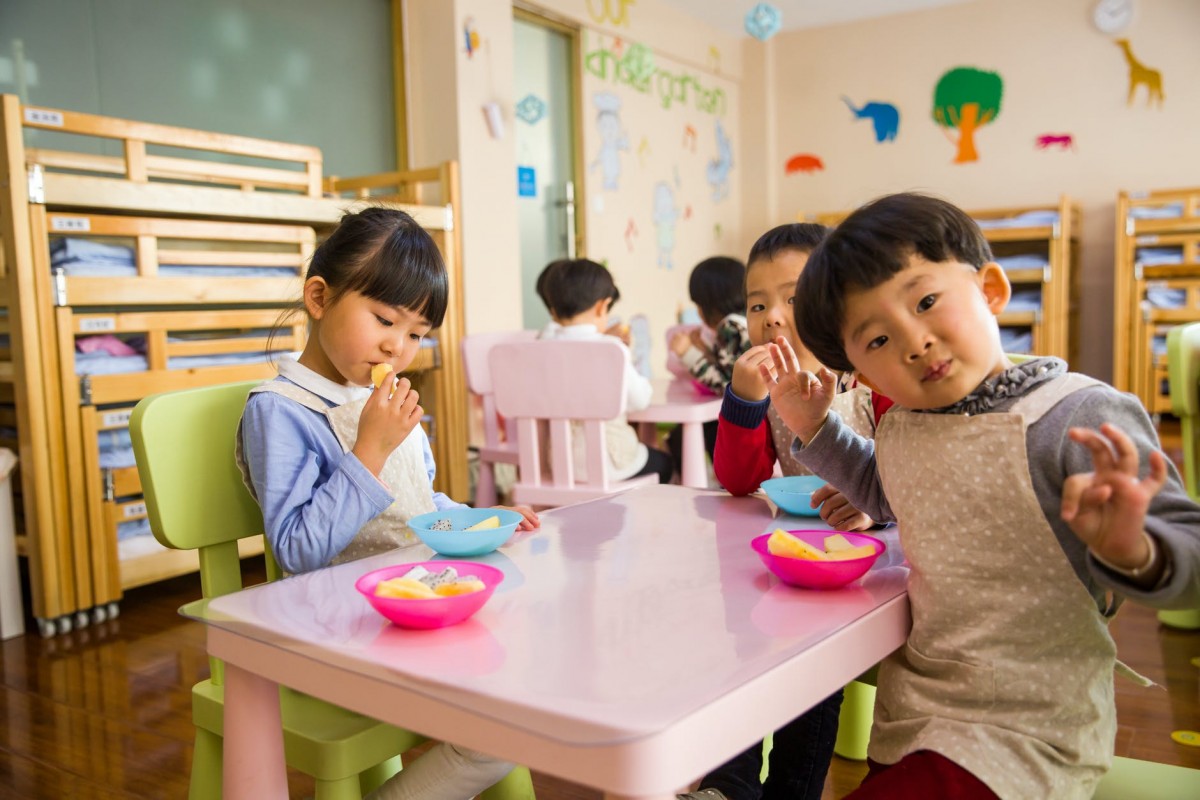 Many parents doubt whether the daycare is a good choice for their child. And what if your kid doesn't like it there? What if they will be bored and cry all the time? And many other questions arise in the head of worried parents. And, its understandable since it is not a simple decision, especially if it's your first time considering kindergarten. We will try to dispel your doubts. We prepared a list of seven reasons daycare is great for your kid.
1. The child acquires the skills of social interaction with people. 
In kindergarten, many children make contact with their peers for the first time and learn to develop relationships.The baby has his first friends, he learns to react to conflict situations, to act in a team. You can be convinced individualists, withdrawn and uncommunicative, but you need to remember: from about three years old (and from about four – for sure) a child needs to communicate with other children. And you must give him this opportunity.
2. Kindergarten is a place where a child form his personality.
In daycare centre child learns to interact with a peer group. Thus, in kindergarten, children's egoism is smoothed out and a sense of collectivism comes to replace it. The child learns to communicate with other adults, to recognise the authority of the "alien" adult – this will help him in the future to better build relationships with teachers at school. In kindergarten, children are constantly involved in various games that help them develop better. One of them is role playing. In such games creative thinking is formed. Also, creativity develops through the skilful handling of substitute items.
3. The child comprehends the norms of social life. 
In daycare, the child gets acquainted with certain rules of behaviour and learns to comply with them. The child learns discipline and order. There is no need to shudder at the word "discipline", there is nothing to do with army drill, this is not at all equalisation, as many people think. This is just the ability to act in accordance with the necessary rules of human society, we all live in society and interact with it, so we need such skills throughout our lives. Doctors all over the world insist that accustoming a child to a certain routine is very important for a growing organism. If at home the time for eating or walking can change from day to day, then in the daycare educational institution the rules are regulated, without this, a high-quality organisation of a children's group is impossible.
Many children in a team eat better and sleep during the day, while at home they have to be persuaded or resigned to non-compliance with the requirements of adults; in the kindergarten, children learn to tidy things up faster, for example, to clean up scattered toys, since this rule applies to everyone.
4. The child receives opportunities for intellectual and physical development. 
The babies are cared for and taken care of by qualified specialists. A big plus is that classes in kindergarten, in contrast to classes organised at home, are held on a schedule, systematically.
In addition, the kindergarten develops independence. The child becomes more self-reliant. He learns that in order to achieve something (take the toy he likes, win the game, be the first to solve the riddle) They need to make efforts, try. 
In a group, children develop faster. The secret of this is simple: a child who does not want to complete tasks at home, observes peers, and wants to be the first, the best, also seeks to learn certain skills. The child develops a sense of leadership and a competitive spirit.
5. Kindergartens protect children from the influence of electronic gadgets. 
Games and applications will never replace spontaneous creativity, work with real materials and vibrant colour. Virtual space deprives kids of creativity. In real life, in kindergarten, a child fantasises: he glues, sculpts, cuts, paints, combines, and finds the most unexpected solutions. All this gives the child constant opportunities for all-round development. And, of course, electronic gadgets have a negative impact on the health and physical development of the child. Speaking of it, the advocate for kindergarten is the health of the child. It is necessary to recover from childhood diseases in childhood, without delaying their arrival. By the age of 3 – 3.5 years, the child's immune system is ready to face an infection, a powerful attack of viruses. This is how the body learns to recognise the disease, develops immunity, and works for the future.
6. Daycare is important for the family. 
Parents of a child attending kindergarten can work or mind their own business. This item does not go on the list of benefits for the child, but it directly affects him. If the parent is annoyed with the child for the fact that he "gets in the way", "does not allow them to earn money," "ties their hands," the child will undoubtedly feel it. And there is no happy and healthy kid, if the parents are unhappy. 
7. Kindergarten is the best preparation before school. 
Modern education makes serious demands on future first-graders, and parents can entrust their child to a professional, rather than rely on their own strengths, not excluding, of course, their participation in various activities with the child. At home, it is sometimes difficult to provide your kid with enough space for games, sports and creative activities. A good childcare centre is an important step before school. There are also classes here, albeit not so long (this is due to the peculiarities of the psychology of preschool age). All joint activities with the teacher involve fine motor skills, influencing memory, logic, and thinking in the most direct way. Your child's future talents and abilities will emerge in years from now, in the future on the basis that you put in now.
Conclusion
The upbringing and development of the child is the work of the parents, and yet kindergarten can greatly facilitate the difficult task for you. Here children receive diversified development and learn to behave correctly in society. So the choice is yours.