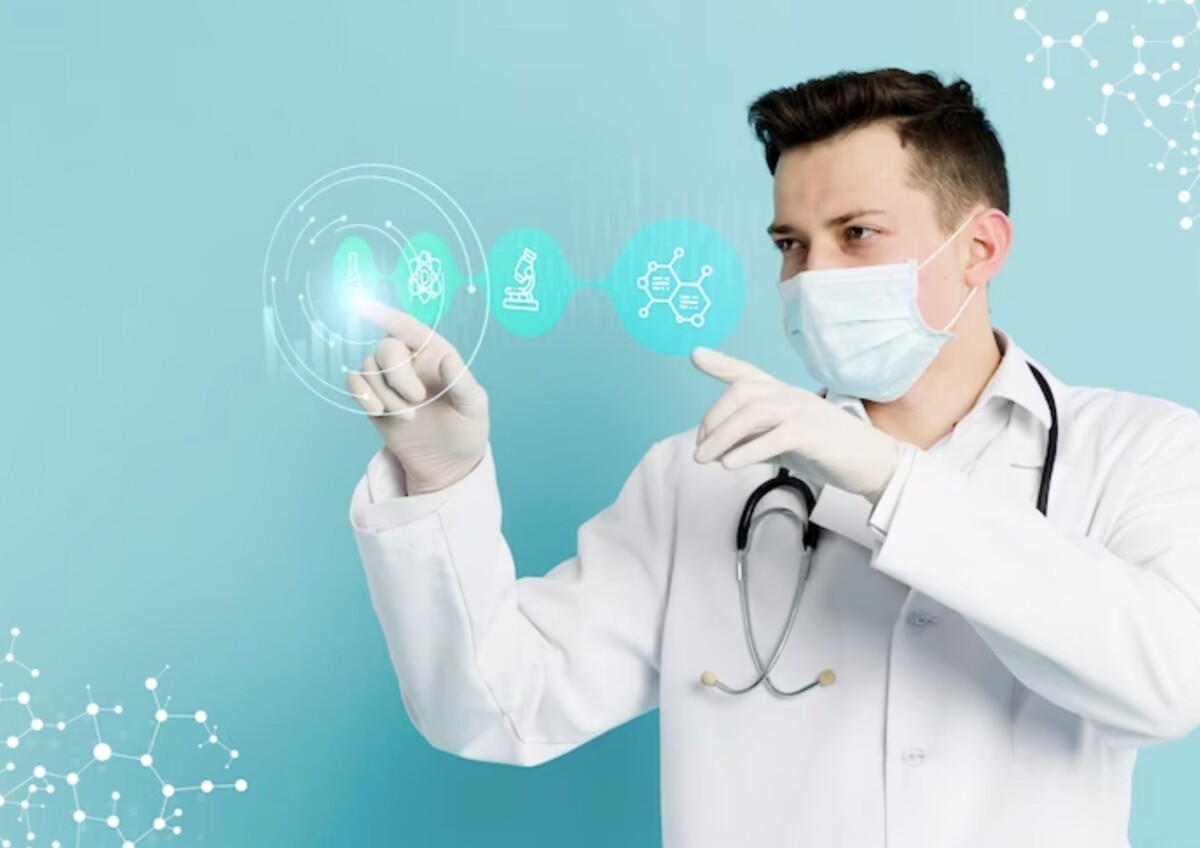 Due to the influence of digitization, the medical industry is going through a substantial transition. If you work in the healthcare industry, you know the superior experience patients and clients receive from custom healthcare software development.
By 2023, the worldwide healthcare sector's service market is anticipated to amount to 79.56 billion USD. You must have found the numbers intriguing.
Additionally, it is essential to develop medical software and come up with top-notch medical software solutions to improve the standard of medical care and medical business administration and to reach out to patients in a more accessible way. The healthcare industry will gain from uninterrupted workflow, but the medical staff will also benefit significantly.
Do you want to know more about the definition of medical software and how it is developed? Are you eager to learn how this manual will help you through it all? Let's get going!
What does medical Software mean?
Medical software is any technology system that enables you to manage your healthcare firm's crucial clinical and administrative tasks. Many different types of medical software automate the healthcare process, including billing, scheduling patients, keeping patient data, prescribing prescriptions, engaging patients, scheduling virtual medical services, and more.
Simply put, medical software is configured and utilized particularly for medical purposes! Let's move on to the many forms of medical software to grasp it better.
Medical Software Types
One of the most important aspects of medical care is selecting the appropriate medical software. The correct medical software can improve your offerings and your staff's general quality of working life.
Because there are so many options, hospitals and medical staff struggle to choose the best medical software. This makes choosing the best option difficult. The most common medical software categories are listed here. 
1. EMR (Electronic Medical Record) and EHR (Electronic Health Record)
The majority of the time, from various sources, the EHR can keep patient data. In addition to other medical data, the data may include details on previous doctor visits, surgeries, and examinations that they may have undergone.
EHR software is necessary for a thorough evaluation of the patient's health. However, many systems offer views for patients and medical professionals so that both parties know about previous medical data.
It's also vital to remember that terms like EPR and EMR (electronic medical record software) will be used frequently. These are the EHR system categories. Several systems sell these systems as separate entities or integrate them.
2. Healthcare CRM Programs
Customer relationship management is referred to as CRM. It's common to use the words "telehealth software" and "healthcare CRM" interchangeably.
It is a type of software that businesses use to oversee the services they offer to customers. In the healthcare industry, patients are the customers, and healthcare providers are the businesses. Are you curious about the justifications for using telehealth services? Now, read our article.
Medical practices and healthcare organizations employ healthcare CRMs to boost patient engagement, expand patient access, and enhance virtual care. Because medical CRMs are expertly constructed, providers can easily provide patients with online telemedicine services.
3. Software for Medical Billing
Except that it is tailored for medical use, medical billing software is identical to any other system that tracks billing data. Invoices, previous payments, recurring spending, and many more can be tracked. This facilitates the work of hospital accountants and maintains the institution's outstanding financial standing.
4. Hospital Administration System
Being a hospital administrator is a very challenging profession that takes a lot of time and effort. Hospital management software was therefore developed to simplify the work for these hospital administrators.
It provides users with tools that enhance their capacity for planning and enable effective scheduling. The major goal is to assign medical personnel to each appointment and plan the patient's appointment more conveniently. You can get essential medical capabilities from hospital management systems, like:
5. E-Prescription Programs
Electronic prescribing software is exactly what it says it is. Healthcare professionals submit prescriptions to two pharmacies and prescription fulfillment centers using this medical software. The medical staff has the ability to communicate with and comment on the pharmaceutical personnel. The information is safely stored, and both parties know the crucial prescription requirements.
6. Software for Telemedicine
Hospitals today can greatly benefit from telemedicine as part of the digital transformation of healthcare. It enables medical practices that lack sufficient room to house all medical professionals to manage their patients and additional patients. The software that makes up telemedicine determines how effective it is.
A lot of time, effort, and thorough investigation are needed to find the correct one. Finding a medical healthcare system with the required features and functions is the first step, and bearing in mind the full telemedicine procedure is another.
The goal of developing telemedicine software is to assist hospitals in overcoming their staffing challenges, particularly those related to acquiring and retaining employees. Additionally, it benefits them by giving them a productive option to offer patient services via remote access. The simple application enables limitless, quick communication between medical professionals and patients.
7. Appointment scheduling applications
A particular kind of software called medical appointment software enables patients to schedule their visits in advance. It provides them with a thorough itinerary and all the necessary contact information. Additionally, it enables doctors to be aware of the available appointments, the people scheduled for them, and any pertinent details regarding their appointments. They have much more freedom to arrange their schedules, improving the hospital's schedule.
8. Software for Medical Devices
Medical device software allows you to keep track of the handling, upkeep, and storage of certain medical devices. You can prevent missed maintenance and downtime with the right medical system software. This software program will ensure you get the most out of your medical gear and notify you when an upgrade is required.
9. Software for Medical Manager
The primary goal of medical management software is to simplify and streamline the patient experience. Due to the software's ability to walk clinicians through a patient's medical history, less paper is also used. A single platform may be used to keep this information, which is crucial for patients and the healthcare professionals who treat them.
With the expert assistance of a medical software engineer, the medical business can choose from various healthcare software options. Let's now discuss another important aspect: the advantages of medical software development.
What are the advantages of developing medical software?
Unnecessary expenses can be cut when medical software is created. As well as being less expensive overall, it also results in lower employee benefits and training expenditures. Medical personnel can benefit from using medical software development to track their workload. In addition, it may be used to handle billing, keep information current, and do several other things. Let us examine each benefit individually.
1. Enhanced Security 
Medical offices are now transmitting, storing, and retrieving web data like before, thanks to advancements in healthcare software. Effective security must be implemented to ensure the safety of hospitals and patients' safety. These security agreements permit the use of the multidimensional verification procedure. A strong firewall and spam filtering are also necessary to grant programmers access to confidential patient data.
2. Automated System Using Several Platforms
Compared to earlier versions, the medical software is much simpler to maintain and upgrade. Medical records management and email notifications are both handled by an automated system. The software now has everything it requires to interact with other systems. It can be used with various operating systems, including Windows, macOS, Linux, Android, and iOS. The constraints of a single platform are gone, thanks to an automated system.
3. Outstanding Diagnostics
Compared to conventional approaches, the program can provide a more detailed and precise diagnostic. To better serve their patients, many medical practices are now resorting to medical software development. This approach guarantees that the whiteboard images and diagnoses reach the doctors, enabling them to view tests, X-rays, and other things without additional tools.
4. Multimedia software
Patients can now access multimedia applications through medical software solutions. These multimedia applications will improve the patient's experience and comfort during treatment. These cutting-edge programs have also removed the distraction of reading on a computer screen. They can also give patients photos of the highest quality. Any form of communication channel offered in medical clinics can be used to access these multimedia apps.
5. Quickness and adaptability – 
The speed at which patients receive care has accelerated because of the development of medical software. Medical specialists do intricate data analyses with medical software development services, providing clinicians with real-time feedback in seconds.
6. Data Exchange 
With the evolution of medical software, data exchange is now feasible. This facilitates information exchange between various health institutions. Patients can receive the same level of care they would in a bigger, more modern hospital by allowing access to their medical records.
7. Software for All Purposes
Software tools are employed for patient scheduling and determining the specifics of their care. This lowers costs and aids the clinic in controlling the flow of its services.
These are the advantages of creating medical software. Let's now discuss the most recent developments in medical software development.
2024's Leading Technologies for Medical Software Development
New technologies are periodically launched in every specialty as the era of digitization takes hold. The medical sector is no exception. As a result, it becomes crucial to adjust to new developments and maintain current operations. So, let's start using the best technology to create medical software.
1. Blockchain
The blockchain is the one that will fundamentally alter the medical industry. Many blockchain-based start-ups solving some of the genuine difficulties in the medical industry have shown that it has much potential in this field.
Blockchain development has several benefits, making it a great fit for any enterprise relating to data security and safety in the medical sector. Users can maintain complete privacy and anonymity because of the decentralized functionality.
From gathering patient history data and securely storing it on a blockchain network to identifying fraudulent claims or even tracking patient outcomes or any other key performance indicators, blockchain technology will prove to be very beneficial in many areas. This will prove crucial when people disclose personal information to doctors to express their opinions and receive better medical care.
2. AR/VR
The medical business is anticipated to undergo a significant transformation in the upcoming years thanks to technologies like augmented reality and virtual reality. With augmented reality, patients can communicate with their doctors from a distance, receiving input via voice or facial expressions.
In addition, virtual reality will allow these devices to superimpose computer-generated visuals in a real-world setting, enabling patients to read their medical data more clearly and communicate with their doctors more simply.
3. Artificial Intelligence
Almost all enterprises worldwide have experienced an increase in the use of artificial intelligence, and different industries have also noticed this trend. But AI will also significantly alter the healthcare industry in numerous ways.
A medical AI program can automate some tasks and make decisions independently. With AI technology, clinical trials will be more effective and have more areas for research, which is regarded as a scientific breakthrough.
Clinical trials (also known as Clinical Trial Automation), fraud detection, and automated pharmaceutical dispensing are AI's three most common uses. Although most of these applications have succeeded in the pharmaceutical sector, they anticipate expanding their use across all other industries.
4. Machine Learning
It is another technology widely used in many other areas, particularly medicine. Machine learning has been around for a while, and as more potent software becomes available, its application will only grow. There are several application areas to investigate in addition to the present uses, like risk adjustment, predictive analytics, and automated monitoring.
5. Chatbots
There are numerous industries where chatbots are already in use, but the medical industry is one where they will be utilized more frequently in the future. They will be able to interact with people using their sizable libraries, enabling effective communication between medical professionals and patients. Thanks to the many businesses trying to use actual voice talking bots, too.
The Methodology of Developing Medical Software
We will now examine the procedures that must be followed throughout the creation of medical software.
Define Your Target Audience 
You must understand your target market's needs when developing medical management solutions. The client and the seller will profit from having a distinct understanding of the long-term solution if the target audience's demands and preferences are carefully considered.
It will be easy to decide which features and technologies (virtual reality, cloud computing, and the Internet of Things) should be incorporated. Strong connections with potential customers help software engineers create better products.
Gather Essential Data About Your Product Idea
Ensure you have all the knowledge necessary to create a product suitable for medical use, such as EMR Software Before you start developing your medical software.
Designing A Prototype in Step 
A prototype is an interactive, functioning model of your finished product, and the design of medical software and a hospital management system is essential. Your wireframe for your prototype should use a computer interface that enables users to interact with the product.
The following are some factors that make prototyping crucial for medical device software development:
This is a fantastic technique to test the product before production.

Getting feedback and ensuring you are on the right track before allocating a sizable amount of resources to development is possible.

Instead of waiting until the end to fix issues, you can avoid them by adjusting your project along the way.
Develop your final prototype.
It's time to create your final prototype for developing a healthcare app after creating your idea using prototyping tools and technology. As a medical developer, you must be aware of the steps involved in creating software that functions in the healthcare sector and stay current with technological advancements. The most crucial thing is to have a distinct vision of how your software will appear after it is ready.
Create Code to Write Your Software
Although it takes time and effort to create an app from scratch, this does not require developers to spend months creating the code for each product. You can produce the product with less effort if you use a software development kit or other third-party software that can be integrated into your project.
It's critical to thoroughly understand the demands and preferences of the target audience before developing a medical app. When you are finished designing medical software, the knowledge the customer has given you will make it simple for you to select the finest programming languages depending on their needs and make sure they are happy with the final result.
Gather user feedback and make software revisions.
Before user testing and approval, it is not advisable to distribute medical software. As a result, you need to compile user input and create a list of enhancements for your medical software apps.
Deliver Your Software to Your Clients.
Ensuring that your project is provided in the finest manner is the final step of the procedure. You must send your software along with any necessary updates and supporting materials. Give users enough time to evaluate the product and offer feedback if you rush to get it out the door.
You can use the instructions below to create medical management software. Do you want to know how to create successful healthcare software? Check out our blog to learn more!
Most of you must be interested in learning how much medical billing software costs. However, the cost of medical software depends entirely on the customer. One quote cannot apply to all users because each has different demands. This is the cause of the problem. Let's examine the key characteristics to consider while developing custom healthcare software.
Features that Medical Software Development Must Have
Enterprise medical software is the upcoming advancement in electronic healthcare software. The right relationship between the aforementioned traits and EMR, EHR, and CRM technologies will ensure success. Let's examine the essential components of medical practice management software.
1. Tracking System
Any medical software should have as its main purpose the monitoring of patient's vital signs and conditions. Medical software should be able to monitor the following parameters: heart rate, pulse, blood pressure, blood sugar level, and caloric intake. Software with such a competitive feature enhances the user experience.
2. Reminders & Scheduling
Reminders and scheduling are aspects of a successful EMR system. Making follow-up appointments and scheduling appointments for a doctor or nurse is made simpler by making appointments in advance. The notifications serve as a helpful reminder for users when booking appointments for their patients' follow-up visits.
3. Document Management
Medical software should be able to manage documents, including retrieving and managing patient data from various supporting documents like prescriptions and test results.
4. Insurance Processing
The capacity to process insurance claims in accordance with the terms of your contract with your healthcare provider is the most crucial feature that any medical software should have.
5. E-Prescribing
This new software capability has recently been unveiled in the medical sector. We call it e-prescribing. Doctors and other prescribers can use an electronic prescribing system to transmit prescriptions via the Internet to the preferred pharmacies of their patients.
6. Online Data Sharing
The most crucial function that any corporate healthcare software must have is the capability to share data among several organizations, such as hospitals and clinics, in the same geographic area. This is when software vendors', hospitals', and clinics' interoperability protocols come into play.
7. Mobile Computing
Mobile computing is growing in popularity in the healthcare sector. This is due to the development of modern mobile devices like tablets and phones, which make it possible to access medical software anywhere. Many healthcare organizations are partnering with a Mobile App Development Company to create customized mobile applications that enhance patient care, streamline processes, and improve efficiency. These mobile apps allow healthcare professionals to access patient records, communicate with colleagues, and monitor vital signs remotely, ultimately leading to better patient outcomes.
8. Medical Career Management
A medical career management system is an upcoming development in medical software. To keep track of all their contacts, reviews, practice histories, and other professional accomplishments, users can construct their own fields using this.
9. Integration with Other Software Solutions
The medical sector is now developing various software applications. However, most are incompatible with other technologies because each program or software solution uses unique features or capabilities.