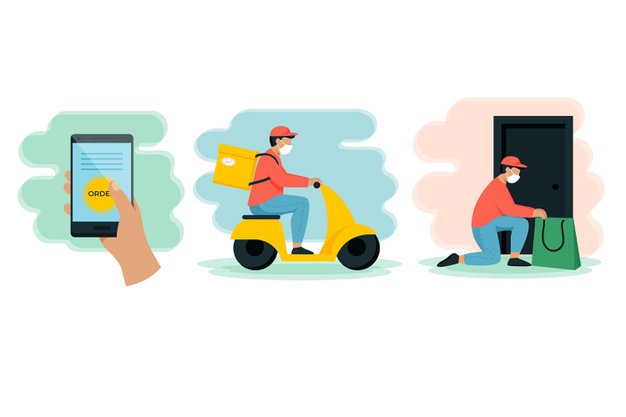 Well, food delivery businesses are the busiest ones and also the ones that face multiple challenges. If you want to make a steady foundation in the food delivery business, then you need to be attentive throughout this blog.
Before navigating to the core content of this blog, let me give you a quick overview of the insights you will get to know. In the first half, we will discuss the business models, and in the next half, we will discuss the Food ordering app like UberEats in detail. Let us get in!
What are the business models, and how do they function?
Food delivery businesses have been following four different business models. Let us see how each model contradicts the other in the case of their functioning.
Aggregator model
The aggregator model can be related to Uber. We are familiar with how Uber functions. The company will only look after managing the rides, passengers, and drivers. They don't provide fleets or drivers. So, the actual business function is to expose passengers to know different drivers so that they can book their rides.
So, aggregator food delivery apps will help users know the variety of restaurants available in their neighborhood. The job of aggregator apps will stop with that. Yes, arranging the fleets and delivery professionals will be your responsibility.
A standard commission will be cut down from orders that come from the aggregator apps. If want to start a food delivery business based on this model, then you will get commission charges. Also, you don't need to search for delivery professionals nor purchase fleets.
Marketplace model
A food delivery business needs fleets and drivers other than the ordering software. In the above model, the app will help in knowing the nearest restaurants. But you are solely responsible for taking care of fleets and delivery professionals. If you are not comfortable with that model, then you can look at the marketplace model, which is being followed by multiple food delivery apps like UberEats, Postmates, Grubhub, etc. 
The platform owner will develop/launch the app, add restaurants, cafes, etc., to the platform, and enable order placements. Further, handing over the orders to the customers will also be taken care of by them. Simply, the marketplace business model can be termed as logistics supported aggregator model.
Cloud kitchen
A brewing trend or business model in the food delivery industry is the cloud kitchen model. A separate kitchen area where food will be cooked and sent for delivery. No dining facility will be available, unlike the usual restaurants. 
Basically, the cloud kitchen model was employed by restaurants that needed extra cooking areas. If restaurants can get extra kitchen space, then more orders can be prepared simultaneously. Over the years, this concept started gaining popularity and evolved into a separate business model. 
You might wonder about the additional charges required to set up the cloud kitchen. Here is the thing for you! You can make use of a shared kitchen area, which will be pocket-friendly for you. So, cloud kitchen is a hot business model, and that you can consider this model.
Restaurant model
The restaurant model is for individual restaurants that are not interested in any partnerships with third-party platforms either for fleets or delivery professionals. If you want to invest in such a model, thereby not losing income on commission percentages, then you need logistics and a well-functioning application.
Now, let us head to the second half of this blog, which will be about the food ordering app like UberEats and also the stages to begin this business.
The easiest way to develop a food delivery app like UberEats
You might be interested in developing a user-friendly app like UberEats, which encloses a box of advanced features. The easiest way is the UberEats clone. Within a precise time, you can launch the app and head to carry out marketing activities. Before heading to the app development, you need to decide the range of features for the customer app, the delivery professional app, and the admin panel.
Know your target users on a thorough basis
Perfect research is one that describes the target users in and out. You need to be exact with the preferences of target users. Beyond just convenience, users order food online for multiple reasons. For example, users may have a sudden craving for a food item, some may be lazy to prepare food, some may wish to take a diversion from the routine home-cooked food, etc. If you start researching about the patterns of users, then you will end up with a bag of research papers. Alright! You can devise your business plans only based on your target users. So, pay close heed to that.
Indulge in intuitive marketing activities 
We saw about the app development and targeting users for your food delivery business. Now, let us discuss the importance of carrying out intuitive marketing activities. Marketing plays an imperative role in a business, right from the foundation stage to the retention stage. Only with the aid of intuitive marketing and a quality application can you survive in the food delivery industry.
Affiliate, influencer, email, content, digital marketing, etc., are the best marketing practices that have been providing success to businesses. Among these marketing activities, users are familiar with affiliate, influencer, and email marketing activities.
None of the users will say no to the extra credits they get from referrals. Food delivery apps still hold the referral policy, where the existing user has chances of getting rewards or coupons for a successful referral.
Another marketing activity that highly pushes users to try out an app is influencer marketing. A pool of influencers can be found in social media apps like Instagram, Facebook, etc. They are paid for posting reviews about foods they try out in different restaurants. So, automatically, users or followers get influenced and head to the app. Moreover, these influencers come up with exciting referral codes for users. 
Summing up, no matter whether you are a budding entrepreneur or an experienced one, you can steer forward your food business with intelligent marketing tactics.