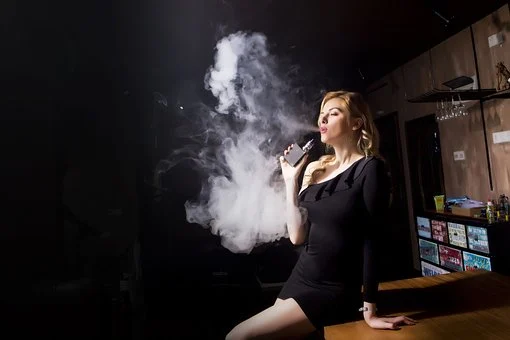 https://www.pexels.com/photo/fashion-technology-chrome-power-3727687/ 
Switching out your vape juices and tanks is a streamlined and straightforward process. However, if you're a beginner, it can seem a bit frightening at first with all those wicks, coils, atomizers, and whatnot. Don't let that stop you from exploring the world of exquisite vape juice flavors. 
Check out a few tips and tricks that'll make changing the vape juice and cleaning out your device such a simple task that you'll start doing it in your sleep. 
Have Different Tanks for Different Vape Juices 
https://pixabay.com/photos/vape-electronic-cigarette-uwell-3423482/ 
If you're just too excited to try out as many different flavors as soon as possible, your most sensible option would be investing in several high-quality 22mm vape tanks. It could seem excessive at first, but it enables you to avoid flavor contamination and vape juice waste (and subsequently, monetary waste). 
After all, it's more financially sound to invest in a few tanks and fill them up with different vape juices than to pour all the remaining e-liquid from your single tank down the drain every time you want to experiment with flavors. 
If you want to save some cash, you don't have to buy a separate tank for every single vape juice you have. Instead, get a tank for a few different flavor categories – one tank for citrusy flavors like orange and lemon, one for fruity ones like banana and peach, one for sweeter notes like chocolate and birthday cake. You get the gist. 
That way, switching out your vape juices will be easier, and you'll reduce the waste produced – it's a win-win. 
Change Flavors to Avoid the Vaper's Tongue 
https://www.pexels.com/photo/woman-sticking-her-tongue-out-3785842/ 
The abundance of flavors is what causes many vapers to give vaping a try. Still, even if you aren't that excited about all the possible vape juice combinations you could explore, it's a good idea to switch your e-liquids now and again. It will help you avoid the dreaded Vaper's Tongue. 
The Vaper's Tongue can completely ruin your vaping experience since it temporarily makes you lose all sense of taste. You won't be able to feel the subtle notes in your e-liquid, nor will you taste the bitterness of your coffee or the freshness of your toothpaste. It's quite a bummer. 
The Vaper's Tongue phenomenon is essentially a type of olfactory fatigue. The only difference is that olfactory fatigue involves temporarily losing your sense of smell instead of your sense of taste. Both happen when you're too exposed to a single aroma/flavor that you become overwhelmed and stop noticing it. 
Don't worry – it's a pretty common phenomenon, and your sense of taste will return after a while. 
Still, the Vaper's Tongue is pretty annoying, and the only way to avoid it is by frequently switching your vape juice flavors. 
Changing Your Vape Juices 
https://pixabay.com/photos/vape-electronic-cigarette-uwell-3571751/ 
Whether you want to avoid the Vaper's Tongue or enjoy the thousands of different vape juice flavors available, take a look at how to change your e-liquids without ruining your vaping experience. 
Thoroughly clean the tank 
To start, you'll need to pour out any remaining e-liquid that's still inside your tank. Then, disassemble your device and remove the tank from the battery. You should be very careful not to expose your vaporizer's battery to water as it could damage it. 
With the tank removed, you can use warm water to rinse it out and remove any e-liquid residue that's stuck to its walls. If there are any stubborn stains, dip a Q-tip in rubbing alcohol and gently remove excess vape juice. 
Move on to the coil 
The next step is inspecting and cleaning your coil. Vape juice needs to get to the coil to become vaporized, so your coil is probably steeped in it. 
If you've recently changed the coil, you can rinse it under warm water to remove excess e-liquid. Some e-liquid might remain in it, but it shouldn't be very noticeable once you start vaping a different flavor. 
A better alternative would be changing out the coil for a brand new one. You'll need to change your coils regularly anyway, and this way, you'll ensure that there's no flavor contamination when changing your e-liquids. 
Leave everything to air dry 
With your coil and tank cleaned, you can gently tap them dry with a paper towel and leave them to air dry completely. Don't try to rub the parts dry or use heaters to speed up the process, as it will probably damage the components. 
Also, don't be impatient and assemble your device before the parts are completely dry – it could harm the battery and cause your vaporizer to start spitting hot e-liquid. 
Fill up the tank with your new vape juice
Once all the components are dry, reassemble your device. Make sure everything is well-assembled and tight, then start filling the tank with your new vape juice. Try not to overfill the tank. Otherwise, you'll likely encounter leaking and spitting problems. 
Take a few dry hits without turning on your vaporizer to ensure that the wicking material has absorbed the vape juice, then start vaping as usual. You should notice a fresh, authentic flavor without any contamination by the previous e-liquid you used. 
Final Thoughts 
As you see, changing vape juice flavors is a simple process that doesn't take much skill or knowledge. Just follow the steps mentioned, and you'll be good to go. You can start exploring the whole world of flavors and take your vaping experience to a whole new level.