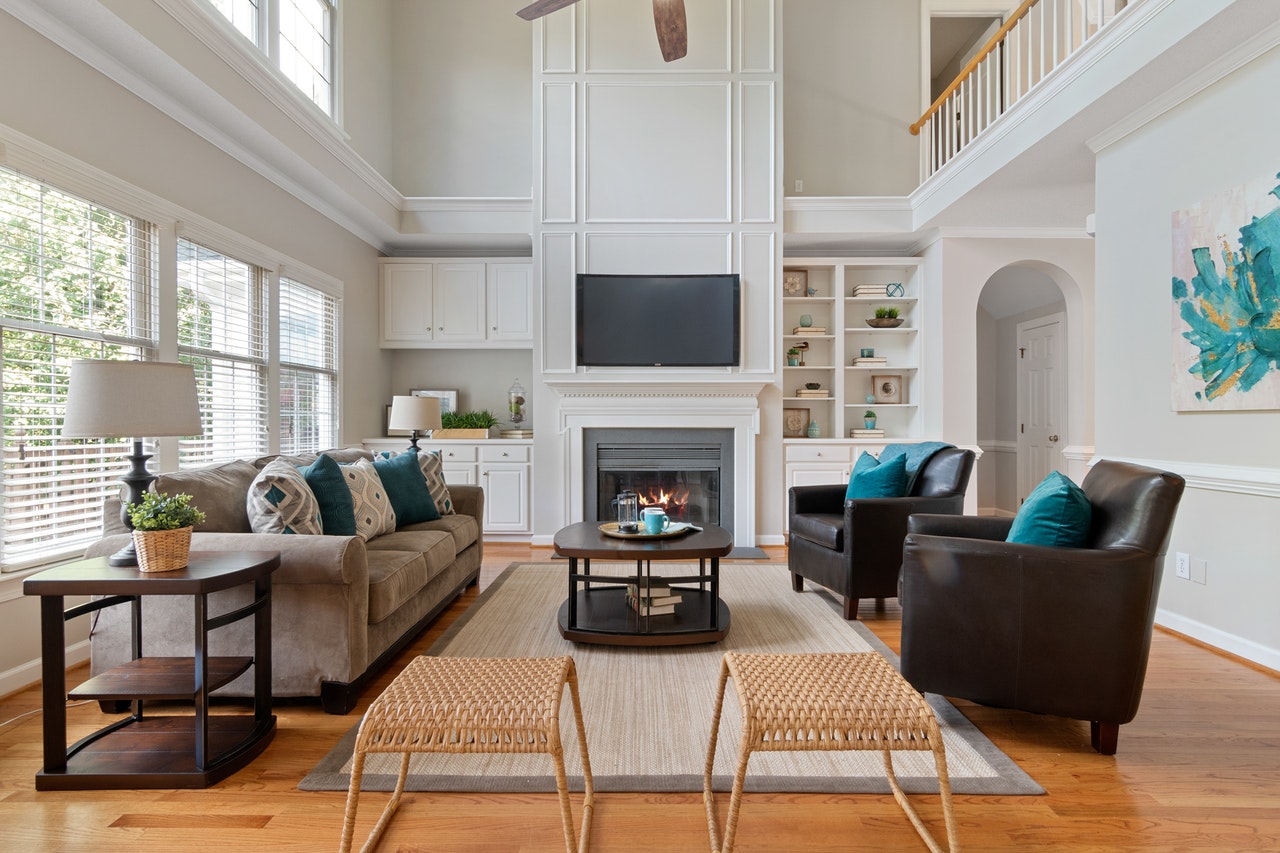 Are you tired of the way your living room looks? It's time for some changes that will transform your home from the old hut to the space of your dreams. Even though most renovations cost a ton of money, refreshing your living room is the way to do it on the budget!
Think of the perfect living room for your home. If you're all out of the ideas, these tips will help you create the stylish living room you desire. So, check out some ways to easily refresh your space without spending a fortune!
1. Clear the clutter
No room looks nice with clutter all over it! If you want style, you'll have to get rid of all the useless things, garbage and items you don't need. Start by cleaning the space from the trash. That includes paper, plastic bags, bottles, food plates and other items that simply don't belong there.
Dust the room and thoroughly vacuum it. If you have a coffee table you no longer need or a chair you don't want, you can sell it or donate it to someone who needs it. That's how you'll free up some space and have a spacious area you can work with!
2. New paint coat
Before you implement any further changes, keep in mind that one of the best ways to give your space a new look is by painting the walls. Nothing refreshes the room as much as a new coat of paint that completely brings your home back to life. So, what do you need to keep in mind?
If you're planning on painting the walls, ensure to cover the furniture and protect the floors. Pick a lively colour that will merge your entire space together. Accent walls are still a thing in many homes, so you can try creating that. On the other hand, a lot of people are starting to implement walls with textures, such as bare bricks, wood, or lino. That will give your home an interesting but fresh look!
3. Plan a new layout
Same old furniture can get quite boring. However, not everyone has enough money to purchase a new sofa, armchairs, shelves, etc. But the thing you can do is rearrange your layout and create a completely new atmosphere.
Depending on the size of your living room, you can create different variations that will provide you with the sense of novelty you need. For instance, in large spaces, you can create a central seating area by pushing your couch to the middle of the room. On the other hand, in smaller spaces, you can move the tv to a different wall, swap sofa and armchairs and move your cabinet or shelf elsewhere.
4. Dead corner transformation
One of the biggest problems in homes is dead space you don't know how to use. Dead corners can really make your entire living room look horrible. Instead of letting them be and ignoring their exitance, you can use some imagination and transform a dead corner into a useful nook! How?
For instance, you can add a bookshelf and a chair to create the cosiest reading nook. On the other hand, if you have kids or pets, create a play or rest area for them there! As they love to be included in the family activities, surely your pets and children will enjoy having a corner of their own!
5. Jump on the trend bandwagon
Do you like following trends? Great! Use your sense of fashion and creativity to design the best interior possible. Source inspiration from design magazines and internet platforms, and check out the styles that suit your space the most. It can be anything- from minimalistic style to brand new maximalism, as long as you'd enjoy it! But what if you're not a trend follower?
You don't have to enjoy following trends to incorporate modern designs into your living room. Choose concepts that suit your style and create something unique. Velvet is extremely popular at the moment. So, even though it's a trend, this timeless material will refresh your home and add some texture.
6. Mix and match
Maybe your living room is missing some excitement and originality? To create a comprehensive design, you don't only have to focus on current trends. Refreshing your living room can be done in many ways, and one of the most exciting ones is mixing and matching.
If you're a fan of eclectic design, this is an ideal opportunity to use your creativity to transform your space. Match rustic and chic elements with modern colours, or use entirely different textures to create an original and intriguing design. Linen pillows, floral upholstery, navy blue shelves and fuzzy carpet can all be incorporated into one room and look magnificent!
7. Don't forget about the light
Even though this may seem obvious, you'd be surprised how many people don't pay attention to the lighting in their homes. Natural light can be one of the crucial aspects of your design. However, if you don't get enough natural light in your home, that doesn't mean you can't have a beautiful and refreshing living room.
Think about different layers of lighting. Make your ceiling light the strongest and work around it. If you want to highlight your walls and create a romantic atmosphere, consider implementing wall lights. Also, floor standing lamps are ideal for reading nooks and decoration.
8. Pick a highlight colour
Keeping your design neutral can be the best decision you've made. Playing it safe will allow you to adapt your living room to new trends and keep it simple in times you don't need too much stimulation. However, if you get bored of the same old white creamy colours, you can always pick an accenting colour.
As minimalism is all about three colours, choose the third one for the details. For instance, grey walls with a beige couch will go fantastic with green pillows. You can even try something more daring as red walls and blue furniture. It's up to you the way you want to decorate your space.
9. sew new pillow covers
The living room without cushions and pillows simply seems empty! Even though you may already have pillows on your couches, sofas and chairs, adding new ones can completely refresh your space and create a better, improved design. What else can you do?
Instead of purchasing store-bought pillows, consider creating new covers for the ones you own. Sewing pillow covers can be an amazing past-time activity that will help you relax. On top of that, you can choose your own material, add more texture or create an accenting affect your living room needs!
10. Refresh the accents
A house doesn't seem like home without personalisation. To add a personal touch, refresh the décor and accents to create a unique space you'll enjoy. For example, you can add some art on the wall or original decorative figurines on shelves. Also, don't forget about new throw blankets and pillows to make your space seem cosier.
Decorating your house is one of the simple things you can do to make your house look so much better! Besides purchasing decoration, you can create your own and have a fun family project. Additionally, you can also save money by buying second-hand or thrifting unique décor that will make your space shine.
11. Treat windows
You don't have to remodel the entire house to have a beautiful living room. Even though you may think that windows are the least important aspect of your living room, they play a huge role in tying your entire space together. Therefore, if your windows look old and worn out, all your effort will go to waste unless you treat them.
Simple ways of treating your windows are repainting them, doing an ombre dye or getting new curtains. On top of that, don't forget about blinds! Install high-quality honeycomb blinds that aren't only beautiful but energy efficient. They will decorate your space and save you money as they are suitable for a lot of climate types!
12. Bring nature inside
What can truly refresh your space is nature. Even though you may live in the middle of the concrete jungle, there's no one stopping you from bringing nature inside your home. That's why purchasing lovely indoor house plants can bring your space to life and decorate it with a cosy and homey look.
If you take a peek at popular interior design magazines, you'll notice that indoor plants are placed in most random places around the home. So, the best way to arrange indoor plants is by working with the space you have. Whether you place it by the window, on the shelf, ground or perhaps on a coffee table, make sure they get the proper care they deserve to keep flourishing and refreshing your home.
Conclusion
These are only some ideas you can use if you want to refresh your living room. Use your imagination and creativity to create the ideal space of your dreams, but don't forget about these simple steps to bring your home back to life. Save money and completely redesign your living room by incorporating some of these tips and ideas. Remember, it's your space, so experiment!