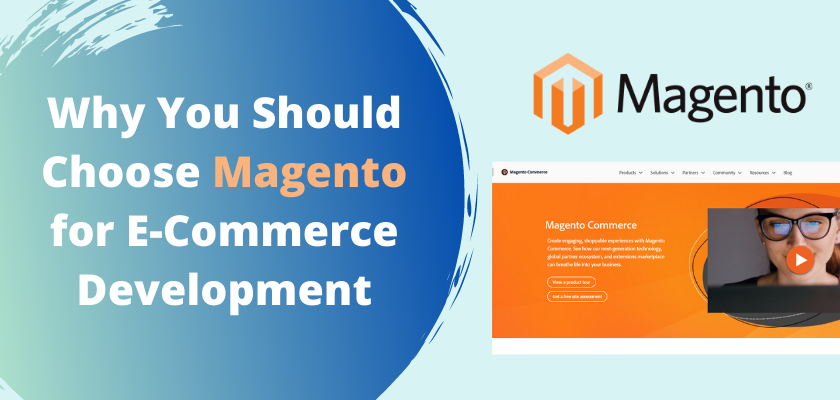 Why You Should Choose Magento for E-Commerce Development
Screenshot taken on the official Magento website
Offering top-notch technology, opportunities for having a neat design, and ultimate flexibility when it comes to what developers can deliver, Magento is among the leading eCommerce platforms that are currently out there. Although it's quite complex in terms of development, the platform is a powerful solution for large-scale stores.
In this post, we'll go over which kinds of businesses can find Magento to be a good match, why Magento is worth opting for, and how it differs from other competitor platforms. We'll also cover the major points that regard the platform's advantages and answer some of the commonly asked questions on the topic. Let's roll! 
Which eCommerce Businesses Should Consider Magento?
Screenshot taken on the official Bulgari website
Based on the data that's provided by the Magento officially, more than a quarter of a million eCommerce businesses use the platform for their stores! Furthermore, the Community Edition of the platform can also boast having practically 1 quarter of the entire eCommerce market share, according to the statistics by WebsiteBuilder.
Which brands use Magento?
To give you more illustrative examples of which companies have chosen Magento as the platform to build their online store on, here's a list of brands whose sites you're more than welcome to check out. 
Bulgari

Ford

Christian Louboutin

Agent Provocateur

Chopard

Wrangler

Lee

Missguided

Oliver Bonas
So is Magento right for your business?
Okay, so many of the big brands are using Magento, great. Now, let's try to figure out whether this platform is suitable for your online retail business type and necessities.
Magento can be your choice of the platform if:
you have a large and complex store or one that's continuously growing (Magento is not the best choice for petite-sized stores and small businesses that are just starting their eCommerce journey),

you want to create a custom website that differs from the others and has enhanced functionality (such as sophisticated product customizers),

you have a custom design in mind that'll have impeccable UX (thus, you don't want to be stuck with the option of only tweaking a ready theme provided by the platform and want to implement your own ideas),

you need a scalable website,

you want a progressive web application that can sky-rocket mobile conversions,

your clients are all over the world and you want your store to be localized in different languages and to support various convenient payment options,

you're ready to invest money in the development of the store as creating a website on Magento requires a techy and experienced team and is rather expensive.
Benefits of Opting for Magento
Screenshot taken on the official Magento website
When in two minds whether Magento is the right path for you or not, you should consider the advantages that it has. We'll list 5 of them in this part of the post.
1. It's an open-source solution
First of all, Magento's Community Edition (CE) comes free of charge. This means that you can build your store on the basis of this open-source platform. Yes, as mentioned earlier, you'll need a team of professional developers for this as, by all means, Magento is no simple drag-and-drop site builder.
Magento's CE has everything you need to build a store, and for extra features, there are many plugins to select from and add. 
2. It offers boundless flexibility & customization
Magento is very "bendy" and flexible. So if you're a business owner who thinks outside the box and wishes to realize unique ideas, then Magento is a wonderful road to take. In essence, you can create your Magento store to be anything you want it to look like, especially in terms of navigation and UX and UI.
3. You can implement unique UX/UI designs
As a rule, most simpler eCommerce platforms offer to modify pre-organized theme packages. As such, they provide a template that you can move around to fit your standards, adding your logos, etc.
With Magento, you don't have to be stuck with the templates. If you have a unique design that you want the site to have, Magento can make it happen (not only visually but with the wanted set of features too).
4. It is capable of handling large volumes
With a proper hosting solution and a well-structured system, the store built on Magento can get huge. As the number of users, orders, logs, and databases grow, Magento grows with it. The platform is practically unrivaled as a solution for the big players.
5. Magento is a safe environment
Security is a highly crucial matter for eCommerce businesses. After all, you hold responsibility for the data that the users entrust you with. Leaks of personal information, card details, etc, can result in enormous legal problems and fines, therefore, having a strong security system "on guard" of the site is vital.
Magento is a safe platform with often updated security patches and tools for scanning the store for hazards and preventing attacks.
Rich Selection of Plugins
Screenshot taken on the official Magento Marketplace
Another strong point of Magento worth noting is that it offers a huge choice of modules to select from. With the number of extensions exceeding 3.5k on the official Magento Marketplace alone, it becomes much easier to handle the store's customization.
Be it the acceleration of site speed, SEO modules, social media plugins, or integrations with a CMS or other third party tool, the store's functionality, and capabilities can expand greatly. What is more, a large portion of the plugins come free of charge, others on a paid basis.
The major Magento extension categories include:
Financial and accounting tools,

Client support,

Marketing extensions,

Security tools,

Payment modules,

Sales modules,

Website optimization,

Content tools.
You Can Get a Magento PWA
Featured image on the banner: Unsplash
Perhaps the major advantage of going for Magento's second version is that this advanced platform offers ground for building a progressive web application. Created with the aim of boosting the mobile conversions of a site, PWAs are a real hit in the eCommerce field as of late.
Numerous eCommerce stores that have progressive web apps are already reaping the benefits of improved conversions, higher customer engagement, lowered customer acquisition costs, lowered bounce rates, faster load times, among other perks. Just take a look at these PWA stats for more specific numbers.
Why does your eCommerce store need a Magento PWA?
Progressive web applications are your "FastPass" for improving the conversions made by users from their mobile devices. The thing is that people prefer to use their smartphones and shop on desktop computers less frequently as time goes. This means that your store's mobile version must be impeccable, fast, convenient, and user-friendly. A PWA can get you there.
For starters, in most cases, creating regular native applications isn't a very customary nor cost-effective "move" in the field of eCommerce in general (even if you have a big Magento store). Of course, the big players like AliExpress have their own successful native apps, yet this is the app that's a good match for the type of shopping that people do on a regular basis. If you aren't sure that your clients will download the native app and use it all the time, you might be investing money into waste.
In simple words, a PWA differs from native applications in the fact that it works from the user's browser. It's like an awesome mobile version of a site that has the UX and style of a native application, that's super fast and intuitive to use. Furthermore, unlike native apps, PWAs don't need to be downloaded to a phone or tablet from Google Play or the AppStore for Android and IoS and they don't consume storage and device memory (whereas native apps are often very weighty). PWAs support push notifications can be used offline, and have a dozen more cool features that are worth paying attention to.
The bottom line here is that getting a PWA for your eCommerce site is a move that's oriented towards the future, it can become a great competitive advantage for your business. And Magento is a platform that can support this.
Magento vs Other Platforms: Which Is Better?
Screenshots taken on the official BigCommerce, Magento & Shopify sites
The field of eCommerce platforms is one that provides numerous options. As such, there are over a dozen platforms that a business owner can opt for apart from Magento. These include such giants as Shopify, BigCommerce, WooCommerce, and those gaining popularity like Wix, PrestaShop, Squarespace, Weebly, among others.
Differing by their feature set, user-friendliness, ease of maintenance, and other peculiarities, the two main platforms that are usually compared with Magento are Shopify and BigCommerce. Below we'll overview them both and bring up the pros and cons of each.
1. Magento or Shopify?
The biggest point that distinguishes the two popular platforms is the store size that they're aimed at. Shopify is considered a better choice for small and middle-size online retail websites while Magento is best for the big ones.
Magento requires technical knowledge to be built whereas Shopify is a more or less out-of-the-box solution that you can play around with having little to no development background. This means that Shopify stores are easier to support. On the other hand, they can't offer as much flexibility as Magento does.
What's for the overall price, both solutions run along the same lines.
2. Magento or BigCommerce?
These two are suitable for large stores. If we go over the price question, trying to understand which of the two is a cheaper choice for creating a store, the fairest answer would be that it depends. These two platforms are more or less equal when it comes to development costs.
The same can be said about site design and themes, two of them are quite similar in what they offer in terms of design. Yet Magento is open-source while BigCommerce is proprietary, meaning that you have more access to themes on Magento. Magento and BigCommerce are comparable in terms of their SEO and marketing feature set too.
Yet the hosting question is one of the ways they differ, Magento's hosting has to be taken care of separately (self-hosting) whereas BigCommerce offers it within the package. The way the two handle security is also different but both are safe.
Commonly Asked Questions
Finally, we'd like to give answers to a couple more commonly asked questions regarding Magento eCommerce stores.
1. Is it expensive to maintain a Magento eCom site?
The grand total for site maintenance after the store is developed will surely vary from one store to another. For example, the number of paid modules that are integrated on the site can influence the maintenance costs, the rates of the developers who back up your store technically, how much you pay for hosting, among other things. The rough estimate is about two thousand USD per month.
2. What if I have a store on Magento 1?
Magento stopped the support of its first version in summer 2020. This means that no releases or updates will be out officially anymore which can jeopardize your site's security. You can keep your store up for a while on M1, of course, yet you'll only gain from migrating the site to Magento 2.
3. Is migration from Magento 1 to Magento 2 fast?
Unfortunately no, migrating a Magento 1 store to Magento is difficult and time-consuming due to the fact that the platforms differ from each other like black and white. Plus, to avoid losses and failures, a very strong team of developers is needed for the task, a team who's well-acquainted with the peculiarities of Magento 1 and Magento 2, and that have ample previous experience in such migration projects.
Final Thoughts
To sum up, the Magento eCommerce platform can certainly boast numerous strengths. To say the least, it has no rivals in terms of its flexibility and openness to customization. It's safe, can cope with the ever-growing necessities of already large stores, and provides the chance to build a progressive web application. Yes, this is a quite pricey solution, yet due to its strong sides, it is chosen by many renowned brands and big online retail companies.
Answering the question of if this platform is a good fit for your business, you must take into consideration the budget that you're ready to invest in, your further plans for site growth, as well as numerous other points. Every case is individual, therefore, we hope that this post has revealed interesting points on the topic!