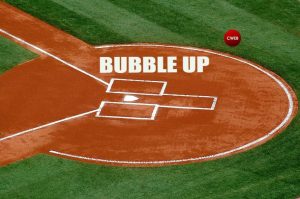 According to MLB commissioner Rob Manfred, they are internally holding "preliminary discussions" about having its playoffs in a bubble-like model. The discussions have come after outbreaks within the St. Louis Cardinals and Miami Marlins have led to numerous postponed games.
MLB is looking at a multi-city format, much like the NHL did with Toronto and Edmonton, and could hold its wild-card round in three hub cities before holding later rounds in two cities.
The report cited no regional areas have emerged for potential host cities, although Chicago, New York and Southern California could stand out because they all have multiple MLB teams and stadiums.
COVID-19 outbreaks and postponed games have taken the spotlight in professional sports during the early portion of the season even though they have been limited to the Marlins and Cardinals.
Miami's season was on hold for eight days, while St. Louis has not played since July 29. The Cardinals saw two series against the Detroit Tigers, as well as National League Central series against the Milwaukee Brewers, Chicago Cubs and Pittsburgh Pirates, postponed.
Finishing the 60-game season in a small window will be difficult for the Cardinals at this point, even with 7-inning doubleheaders now in play.
Such a delay because of an outbreak would completely compromise baseball's playoffs, which will be expanded to 16 teams this year.
The plan as of now is for the higher seeds in each league to host every contest of the best-of-three wild-card round games, but later series would feature much more traveling. Holding the postseason in a bubble would cut down on that travel and theoretically expose the players and staff to less risk.
The NBA and NHL have proved that it is possible to hold sports amid the COVID-19 pandemic in a bubble-like environment and avoid outbreaks, and Major League Baseball reportedly may follow suit.
I've repeatedly questioned commissioner Rob Manfred, MLB owners, and the MLB Player's Union decision to play the 2020 60-game season globally in 30 cities & 30 stadiums. It's irresponsible and the Coronavirus will continue to spread unless they jointly agree to finally bubble up; before it's too late.
Photo Credit : Pixfuel
As the NBA and MLB resume, how might empty seats influence player performances?
MLB & MLBPA Tighten Their Masks Amid Recent COVID-19 Outbreak