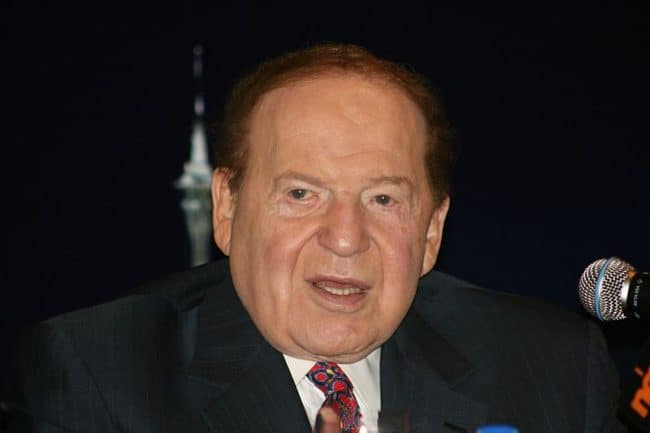 Respected businessman Sheldon Adelson was born on August 4th, 1933.  He died  on January 11th, 2021. Adelson had non-Hodgkin's lymphoma, which his aides disclosed in February 2019.
Adelson became a behind-the-scenes-influencer in Washington helping to shape US policy toward Israel and help guide Republican Party strategy. Adelson and his wife, Dr. Miriam Adelson donated hundreds of millions of dollars to Republican-aligned super PACs. "$215 million was donated into federal super PACs in the last two years, making them largest publicly disclosed donors of the 2020 elections, according to a tally by the nonpartisan Center for Responsive Politics. In 2016 Adelson  endorsed Donald Trump for president.
Adelson is survived by his wife Dr. Miriam Adelson and five children, As of September 2020, Adelson was listed by Forbes as having a fortune of US$33.5 billion making him the 28th-richest person in the world and 17th in Forbes 400.
Adelson was the founder and chief executive officer of the Las Vegas Sands Corporation which also owns the Marina Bay Sands in Singapore.  The Marina Bay Sands in Singapore, and the parent company of Venetian Macao Limited, which operates The Venetian Resort Hotel Casino and the Sands Expo and Convention Center.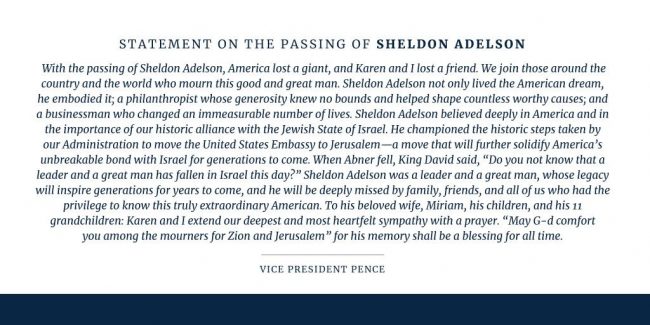 Adelson also owns the Israeli daily newspaper Israeli Hayom, the Israeli newspaper Makor Rishon that was published weekly, and  the American daily newspaper the Las Vegas Review-Journal. He also donated hundreds of millions of dollars to medical research and Jewish causes.
In the late 1970s, Adelson and his partners developed the COMDEX trade shows for the computer industry.
In 1988, Adelson and his partners purchased the Sands Hotel and Casino in Las Vegas where famous stars visited on a regular basis like Frank Sinatra and The Rat Pack, an informal group of entertainers who met at the Los Angeles home of Humphrey Bogart and Lauren Bacall.
"Laura and I mourn the passing of a friend," former President George W. Bush said in a statement. "He was an American patriot and a strong supporter of Israel. Sheldon was a generous benefactor of charitable causes, especially medical research and Jewish heritage education. He will be missed by many – none more than his beloved family."