Buy Rating on Dollar General Stock Offering Solid Gains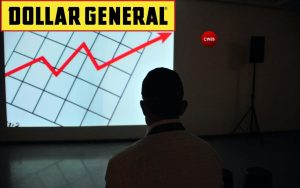 Dollar General Corporation (NYSE: DG) has been a consistent long-term gainer. The stores have done well over the years and in particular over the COVID-19 pandemic. In light of so many retail bankruptcies and closures of other retailers, Dollar General is one of the strongest discount chains in  delivering strong earnings and market share gains.
GOODLETTSVILLE, Tenn.–(BUSINESS WIRE)– Dollar General Corporation (NYSE: DG) today reported financial results for its fiscal year 2020 first quarter (13 weeks) ended May 1, 2020.
Net Sales Increased 27.6%; Same-Store Sales Increased 21.7%
Operating Profit Increased 69.2% to $866.8 million
Diluted Earnings Per Share ("EPS") Increased 73.0% to $2.56
Cash Flows from Operations Increased 202.4% to $1.7 billion
Company Issued $1.5 Billion of Senior Notes
Board of Directors Declares Second Quarter 2020 Cash Dividend of $0.36 per share.
Source: Click Here
Dollar General  pays an attractive dividend at 32 cents per share. The dividend score is rated a 10 according to many analysts. The company has consistently raised it dividend through the years.
 Stock Price Gains for
3 Months +29.76 %/ 1 Year/   40.17 % /  3 Years +168.85 % /  YTD/ +21.66 %
Based on 22 analysts offering 12-month price targets for Dollar General in the last 3 months. The average price target is $206.90 with a high forecast of $230.00 and a low forecast of $178.00. The average price target represents a 9.02% increase from the last price of $189.79. Source: Tip Ranks
The analysts of CFRA rate Dollar General with a Strong Buy rating. The price target was set to $ 230.00. At a current price of $ 189.70 there is upside potential of 21.24%.
Mr.  Todd Vasos has served as Chief Executive Officer and a member of our Board since June 2015.  He joined Dollar General in December 2008 as Executive Vice President, Division President and Chief Merchandising Officer. He was promoted to Chief Operating Officer in November 2013.  Prior to joining Dollar General, Mr. Vasos served in executive positions with Longs Drug Stores Corporation for seven years, including Executive Vice President and Chief Operating Officer (February 2008 – November 2008) and Senior Vice President and Chief Merchandising Officer (2001 – 2008), where he was responsible for all pharmacy and front-end marketing, merchandising, procurement, supply chain, advertising, store development, store layout and space allocation, and the operation of three distribution centers. He also previously served in leadership positions at Phar-Mor Food and Drug Inc. and Eckerd Corporation.
Top Institutional Holders
Holder  Shares  Date Reported  % Out    Value
Price (T.Rowe) Associates Inc      23,106,730           Mar 30, 2020      9.18%    3,489,347,297
Blackrock Inc.     22,637,621           Mar 30, 2020      8.99%    3,418,507,147
Vanguard Group, Inc. (The)          20,338,915           Mar 30, 2020      8.08%    3,071,379,554
State Street Corporation               11,394,721           Mar 30, 2020      4.53%    1,720,716,818
Top Mutual Fund Holders
Holder  Shares  Date Reported  % Out    Value
Vanguard Total Stock Market Index Fund              7,540,535             Mar 30, 2020      3.00%    1,138,696,190
Vanguard 500 Index Fund            5,240,517             Mar 30, 2020      2.08%    791,370,472
Price (T.Rowe) Blue Chip Growth Fund Inc.            5,094,490             Mar 30, 2020      2.02%    769,318,934
American Balanced Fund              4,571,000             Mar 30, 2020      1.82%    690,266,710
Price (T.Rowe) Mid Cap Growth Fund      3,197,700             Mar 30, 2020      1.27%    482,884,677
SPDR S&P 500 ETF Trust 2,816,511             Mar 30, 2020      1.12%    425,321,326
Vanguard Institutional Index Fund-Institutional Index Fund           2,251,863             Mar 30, 2020      0.89%    340,053,831
Fidelity 500 Index Fund 2,226,417             Mar 30, 2020      0.88%    336,211,231
Fundamental Investors Inc           2,157,200             Mar 30, 2020      0.86%    325,758,772
Vanguard Growth Index Fund     1,950,103             Mar 30, 2020      0.77%    294,485,054
Among the discount larger stores, we see Walmart Inc.  (WMT) leading higher in the months to come. Read more about Walmart's partnership with health care. To read the news – click here.
CWEB Analysts see the stock as a potential  for long term growth and a great addition to one's portfolio and upward of $290 by 20121
CWEB.com is not registered as an investment adviser with the U.S. Securities and Exchange Commission. Rather, CWEB.com relies upon the "publisher's exclusion" from the definition of investment adviser as provided under Section 202(a)(11) of the Investment Advisers Act of 1940 and corresponding state securities laws.
Stock Search
CWEB Business News