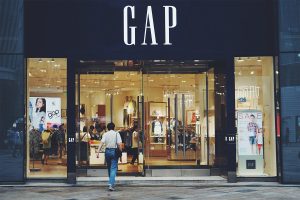 Gap NYSE: GPS CEO Sonya Stengel announced the 10-year apparel Kanye West on June 26th, 2020 the gaps brand identity has been falling and Kanye West appeal could help bring the brand into the forefront again.
The clothing line which will include t-shirts, basic clothing, and jogging clothing it is set to debut in 2021. Kanye West certainly has been in the forefront of the media lately announcing he was running for president. Penny changed his mind and retracted his decision.
Kanye West has been in a Twitter debacle with his wife Kim Kardashian and Kris Jenner about his health. West has been  diagnosed with Bipolar Disorder.  All of  this drama puts pins and needles for the brand identity of the gap. Gap may have no choice but to  stick with West in order to save the brand. West was successful when he launched a deal with Adidas and provided trendy apparel for the brand.
Net sales by brand for the first quarter 2020 compared to the first quarter 2019 were as follows:
Old Navy Global: Net sales were down 42%; store sales were down 60% with online sales up 20%. Since the onset of the COVID-19 pandemic, Old Navy has seen a meaningful acceleration in its digital business. The Company noted it expects the off-mall, strip real estate that makes up approximately 75% of the fleet to be an advantage as customers return to stores and expects traffic in these locations to ramp up more quickly than other formats.
Gap Global: Net sales were down 50%; store sales were down 64% with online sales down 5%. Prior to the onset of the pandemic, Gap brand performance continued to be pressured by inconsistent execution of product and marketing messages. However, the Company noted the brand did experience steady improvements in its online performance throughout the quarter, attributable to the Company's strategy to migrate customers online as the brand's fleet rationalization efforts continue.
Banana Republic Global: Net sales were down 47%; store sales were down 61% with online sales down 2%. While the move to casual fashion during the stay-at-home requirements has benefited other brands in Gap Inc.'s portfolio, this shift left Banana Republic disadvantaged in its product mix. As a result, Banana Republic is taking aggressive action to adjust to consumer preferences and improve inventory mix.
Athleta: Net sales were down 8%; store sales were down 50% with online sales up 49%. Customer response to Athleta was strong given the values-driven active and lifestyle space the brand participates in as well as the brand's deep customer engagement through its powerful omni-channel model.
Cash Flow
The Company ended first quarter fiscal year 2020 with $1.1 billion in cash, cash equivalents, and short-term investments compared to $1.7 billion at the beginning of the quarter. Cash flow performance was impacted by the sales decline caused by the pandemic, partially offset by $500 million borrowed during the quarter under the Company's unsecured revolving credit facility.  Financial reporting Source 
Sonia Syngal is the Chief Executive Officer of Gap Inc. leading the $16 billion business across all geographies and channels with a team of nearly 130,000 employees.Most recently, Sonia led Old Navy from $7B to $8B in sales in just three years, expanding its North American presence to more than 1,200 stores, scaling its ecommerce site to the no. 4 largest apparel site in the U.S. and building competitive omni-channel capabilities. Prior to that, she was Executive Vice President of Global Supply Chain and Product Operations, responsible for managing Gap Inc.'s global supply chain and redefining a best-in-class product-to-market model for its portfolio of brands.