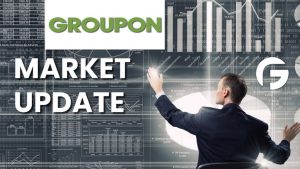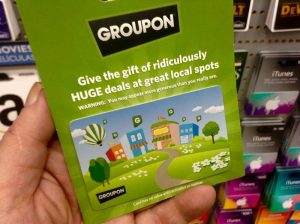 Groupon, Inc. (GRPN)has always been the leader in daily deals. Consumers love to go on the hunt for bargains. More than ever due to the  Coronavirus pandemic consumers are on the hunt for the best possible deals- and they get them at Groupon.
Groupon, Inc. operates and online local commerce marketplace that connect merchants to consumers by offering goods and services at a discount in North America and internationally.
Two of the largest investment firms Morgan Stanley advise to Equal-Weight the stock, and UBS rates Groupon, Inc. (GRPN)a buy.
Gross Profit Margin (TTM) is an A-
Forecasted annual earnings growth 35.7%
Eric Lefkofsky is worth an estimated $2.7 billion. He is also the co-founder and Chairman of Groupon (NASDAQ: GRPN), a global e-commerce marketplace.
Aaron Cooper has served as our Interim Chief Executive Officer since April 2020. During his Groupon tenure, he served as president of North America, chief marketing officer, head of Global Travel, head of North America Goods and head of North America Services. Prior to joining Groupon, Aaron held a variety of marketing and leadership positions at Orbitz and optionsXpress after consulting roles at AEG Partners, AOL, and Price Waterhouse Management Consultants.
As of Q4-2019
Q4-2019 Results $310 million dollar profit.
More than 1.5 Billion Groupons sold
Customers have saved 35 Billion on goods and services.
Added 20 billion dollars of revenue to merchants.
Independent Director Theodore Leonsis bought US$950k worth of shares at a price of US$0.95 per share within the last 12 months. When insiders buy, that shows optimism about the company. Nasdaq.com recently wrote an article about the best stocks to look at that have had meaningful insider buys. Groupon was on the list among GameStop (GME)  Carnival (CCL), Dardin(DDI), and Cardlytics (CDLX).
Groupon is a beloved brand with an 80 percent awareness rate among consumers.
"A Groupon study of 2,000 people found that 67% of Americans are more hopeful now than when the COVID-19 pandemic first began and 75% plan to support local businesses as much as possible once restrictions on non-essential businesses are lifted in their communities. "Source – Groupon
Google shopping has failed on many fronts. Merchants need to pay more attention to things like bidding for ads- they are expensive, and there is a lot of competition. It is costly to run a Google ad campaign. Merchants have to do some research sift through a lot of data in order to find opportunities to advertise. There is a lack of customization for products such as sizes and colors. Basically, you are paying for the re-direct to your website. It would be to costly to run multiple ads for each size and color, etc.
Groupon presents deals based on consumer behavior and data. The are really good at this as with 1.5 billion dollars of Groupons sold, they are doing something impeccably right.
Partnering with an expert like Groupon could be a great solution for Microsoft and Google also. Business that sell on Groupon are all vetted and face strict requirements to be able to offer services and products to consumers. Do not forget Groupon has an 80% brand awareness with consumers. Seeing the Groupon offers prominent on Google search would offer more savings for consumers directly on Google Shopping. Google would get more eyeballs that could drive Groupon's over 200 million people who downloaded the Groupon mobile app.
Apple Inc. (AAPL) Nasdaq has no shopping portal to offer on the  1.5 billion active devices that people use. People trust Apple and a partnership with Groupon would make sense to offer great deals for the Apple Consumer.
Yelp Inc. (YELP) NYSE is the king of restaurant reviews. During the Coronavirus pandemic they have been in a standstill because of the closure of brick and mortar businesses. As Groupon looks to modify the way it currently handles its existing goods business, it wants to focus on experiences such as travel, wines tasting, fitness and other in person events to name a few.  Yelp Is not the high fueled growth star it used to be. Yelps user base could increase with a partnership with Groupon, therefore benefiting Yelp stock.
Our Top Stock are  Walmart which is so undervalued and should be trading above $300 and Groupon (NASDAQ:GRPN) with a potential upside $50 by end of the year with strong holiday sales and retail spending. Another company we like is Google Alphabet ( NASDAQ:GOOGL ) with an upside of $2000 and Apple ( NASDQ:AAPL ) with upside of $1000.
CWEB.com is not registered as an investment adviser with the U.S. Securities and Exchange Commission. Rather, CWEB.com relies upon the "publisher's exclusion" from the definition of investment adviser as provided under Section 202(a)(11) of the Investment Advisers Act of 1940 and corresponding state securities laws.
Follow us on  https://seekingalpha.com/user/764789/instablogs#instablogs
Photo Credit-Mike Mozart