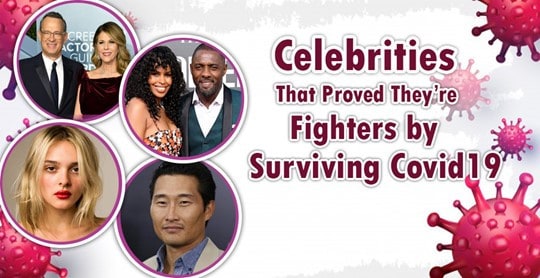 The whole world had been brought to a halt in March 2020 due to the outbreak of the novel coronavirus pandemic forcing people to adjust to a new normal. Since then, it has been proven that nature shows no discrimination and is the great equalizer since it has infected everyone, and celebs are no different.
In today's technological age, the public has all the news on their fingertips and keep tabs on their favorite celeb via social media platforms. Several stars have been infected by the unforgiving Coronavirus but have come out victorious in shunning it. Let's have a look and take positive vibes from their stories.
Tom Hanks and wife Rita Wilson
The beloved Hollywood hero and his wife had been working on Baz Luhrmann's Elvis Presley biopic when they were overtaken by body aches, chills, fatigue, and fever. Upon testing, they were both found positive of the virus and went into quarantine as per protocols. The couple, aged 63, was among the first to disclose their condition and were swamped with messages of love and prayers from fans worldwide.
Idris Alba and wife Sabrina Dhowre
The Hollywood heartthrob had also tested positive for the virus in March and isolated himself as soon as he found out. Soon after, his wife also contracted the virus though they both showed no symptoms and were able to fight off the virus by staying positive, eating healthy, and maintaining a modicum of normality.
Charlotte Lawrence
The American singer/songwriter recently fell victim to the virus a few days ago. The young 19-year old is optimistic about her recovery and thanks her fans for sending her messages, keeping her spirit up during this stressful time.
Daniel Dae Kim
Before testing positive for the Coronavirus, Dae was shooting New York for a TV series. He shared his diagnosis on Instagram and quarantined himself immediately after. He was asymptomatic initially but got tested after feeling body aches, fever, and tightness in his chest.
All these stars were lucky enough to survive this virus but urge people to stay home to slow the spread. The virus shows no mercy to anyone, and you may have all the facilities in the world, it will still corner you. Stay positive and maintain normalcy so that stress doesn't get the better of you in case you contract the virus. Let's flatten the curve together!