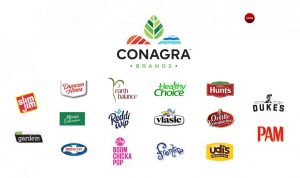 Conagra Brands, Inc. (NYSE: CAG) Board of directors approved a quarterly dividend payment of $0.2125 per share of CAG common stock to be paid on June 3, 2020 to stockholders of record as of the close of business on April 30, 2020.
Tip Ranks reports "Based on 8 analysts offering 12-month price targets for Conagra Brands in the last 3 months. The average price target is $36.17 with a high forecast of $41.00 and a low forecast of $32.00.[i]
Conagra owns many of the iconic brands we see in supermarkets around the world. The company is always offering new products in the food industry to keep up with consumer demand.
Jeffries and Co. has upgraded Conagra  because people eating at home more and spending more on items that Conagra sells. Due to the  pandemic many have lost their jobs and need to economize. They will  not be spending their funds on eating out as often, therefore benefiting Conagra Foods.
Mr. Sean M. Connolly is President and Chief Executive Officer of Conagra Brands. Prior to joining Conagra Brands, Mr. Connolly was President and CEO of The Hillshire Brands Company. Mr. Connolly also held a  position as  CEO for Sara Lee North American Retail and Food service, as well as President of Campbell Soup North America.[ii]
Top Institutional Holders
Holder  Shares  Date Reported  % Out    Value
Vanguard Group, Inc. (The)          58,610,204           Mar 30, 2020      12.03%  1,719,623,385
Blackrock Inc.     40,450,150           Mar 30, 2020      8.30%    1,186,807,401
Capital World Investors 38,056,615           Mar 30, 2020      7.81%    1,116,581,084
Price (T.Rowe) Associates Inc      29,996,118           Mar 30, 2020      6.16%    880,086,102
Macquarie Group Limited             29,156,361           Mar 30, 2020      5.99%    855,447,631
State Street Corporation               21,866,481           Mar 30, 2020      4.49%    641,562,552
Top Mutual Fund Holders
Holder  Shares  Date Reported  % Out    Value
Delaware Group Equity Funds II- Value Fund        13,750,024           Feb 28, 2020       2.82%    366,988,140
Vanguard Total Stock Market Index Fund              13,688,139           Dec 30, 2019       2.81%    468,681,879
American Balanced Fund              13,612,296           Mar 30, 2020      2.79%    399,384,764
Vanguard Mid-Cap Index Fund   12,527,259           Mar 30, 2020      2.57%    367,549,779
Fundamental Investors Inc           11,484,805           Mar 30, 2020      2.36%    336,964,178
Vanguard 500 Index Fund            10,014,368           Mar 30, 2020      2.06%    293,821,557
Price (T.Rowe) Equity Income Fund          8,760,000             Mar 30, 2020      1.80%
[i] https://www.tipranks.com/stocks/cag/price-target
[ii] https://www.conagrabrands.com/our-company/corporate-leadership/sean-connolly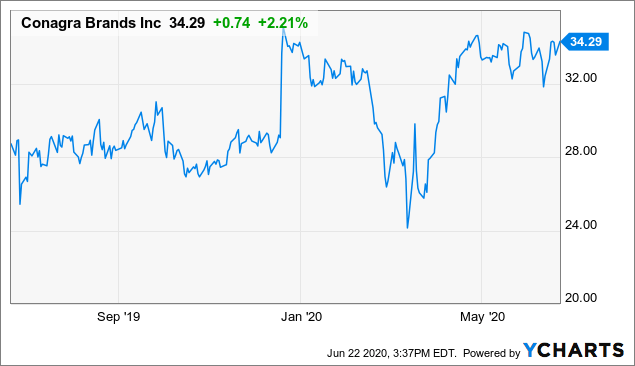 [object HTMLElement]
Conagra was up 2.2%, to $34.29 Monday morning, while Campbell was up 0.8%, to $49.52. Barron's has made much the same argument in recent weeks 257,018,400
Credit Suisse set a target price of $36 for Conagra, up from the company's price of $33.33 on June 15. Mr. Moskow said faster-than-expected deceleration of at-home food consumption from the easing of social distancing restrictions represents the biggest downside risk to Credit Suisse's target price for Conagra.
CWEB Analysts see the stock as a potential  for long term growth and a great addition to one's portfolio and upward of $60 by 20121
CWEB.com is not registered as an investment adviser with the U.S. Securities and Exchange Commission. Rather, CWEB.com relies upon the "publisher's exclusion" from the definition of investment adviser as provided under Section 202(a)(11) of the Investment Advisers Act of 1940 and corresponding state securities laws.