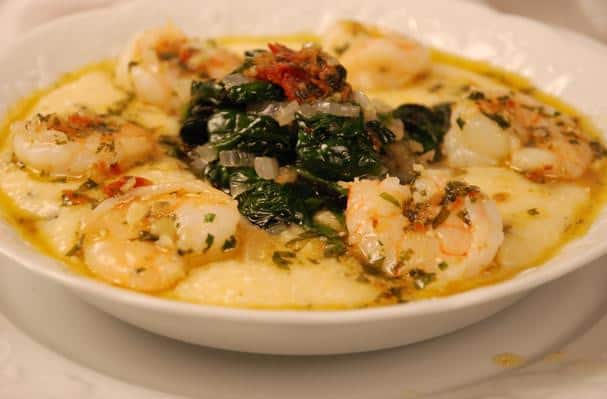 Paula Deen is the inspiration for A Southern Belle Visits Provence! The first time I tasted shrimp and grits was at Uncle Bubbas when I was in Savannah for the Real Women of Philadelphia live event to announce the talent search winners. All 16 of us finalists were treated to an incredible five days in Savannah. One of the highlights of our stay was lunching at Uncle Bubbas and actually meeting Paula's' brother Bubba. Wow, what a true southern gentleman!
I have been thinking a lot about shrimp and grits lately; wondering what it would be like if I introduced a French/Italian twist to the flavors. I was up against my husband not liking grits; he's only tried them once or twice and decided they had absolutely no flavor. Now that was probably the preparation because how could they have no flavor when Paula's recipes and other well known chefs for that matter, combine cream and a lot of cheese into the grits!
In the south of France, at least around Valbonne where I lived, shrimp is traditionally sautéed in butter with parsley, garlic or shallots and white wine. Scallops and frogs legs are done the same way and if you ever find yourself in Valbonne, you simply must try the frogs' legs at the Valbonnaise Restaurant. They are the best I have ever had!
Well, both my picky teenager and my reluctant husband declared this recipe FANTASTIC! I'm going to send this recipe on to Paula Deen just for fun; who knows she just might try it!
Ingredients
12 large fresh basil leaves
Preparation
3. While grits are cooking prepare the shrimp
5. Sauté onion until clear in the olive oil
6. Add the spinach and 
mix 
well
7. Cover and continue cooking over medium/low 
heat 
until wilted
10.
Heat 
I tablespoon butter in sauté pan until bubbling then add the shrimp
11. Cook for 2 minutes add the remainder of the butter and cook for 2 minutes