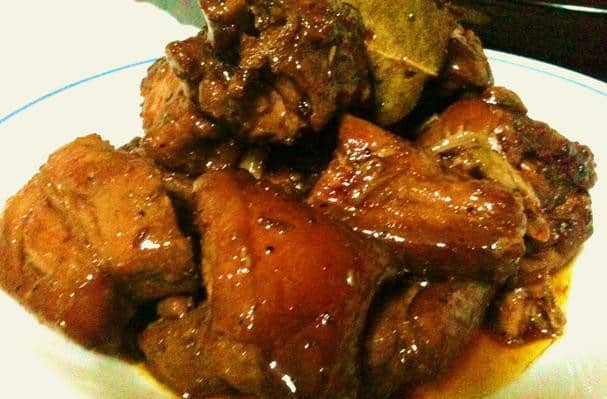 My version of adobo is actually a mix of traditional way how a Spanish adobo is cooked but I cant omit soy sauce because I learned to cook adobo with soy sauce. I tried the recipe without soy sauce and I don't like it because it was so white…it looked raw to me and I cant take it. The best thing about adobo is that it could last for a week without refrigeration.Put it in a jar and let it stand in one corner and just get what you can eat and still it will not get spoiled. During camping or outing, Adobo is such a perfect food to go. The longer it last. the better it taste. Nowadays there are people who add boiled eggs in their adobo..for variety, for economic reason and somehow adapted to Chinese way of cooking their stew.
Ingredients
1/2 gram kg or 500 pork belly
1/2 gram kg or 500 chicken, a combination of wings or drumstick
1 whole head garlic crushed
1 teaspoon peppercorn crushed
1/4 teaspoon ground black pepper
1/2 cup vinegar
1/2 cup soy sauce
2 teaspoons rice wine
2 pieces bay leaf
1/2 cup cup+ ¼ olive oil
1 cup water
2 teaspoons salt
1 teaspoon sugar
2 teaspoons rice wine
1/4 teaspoon thyme
1/4 teaspoon oregano
1 teaspoon paprika
1 teaspoon dried chili flakes
Preparation
1. First marinate pork and chicken for 30 minutes with the combination of:crushed garlic, crushed peppercorns, ground black pepper,vinegar,soy sauce,rice wine and bay leaf.
2. Then put the chicken/pork with marinate to a saucepan. Let it boil over medium heat for 10 minutes. Do not stir.
3. Let it cool for 5 minutes and using the strainer, separate the sauce and kept aside.
4. After that, heat a pan or saucepan,put 1/4 cup oil and start to fry the pork/chicken meat by batches..fry them until just brown.
5. Then using the same sauce pan where you previously cook to boil the mixture, put back the fried chicken/pork meat, add also the used oil from frying if theres any.
6. Now add the ff:the sauce that you set aside(taken after you strained),1cup water, 1/2 cup olive oil, salt,sugar,thyme,oregano,paprika and chili flakes.
7. Heat the mixture and once it boils,turn the the heat to simmering mode and cook for 1 hour or until you reach the desired consistency..Avoid stirring, oh yes you may…I know you cant help it cause you will..just like me.. but stir it just to check once in a while.