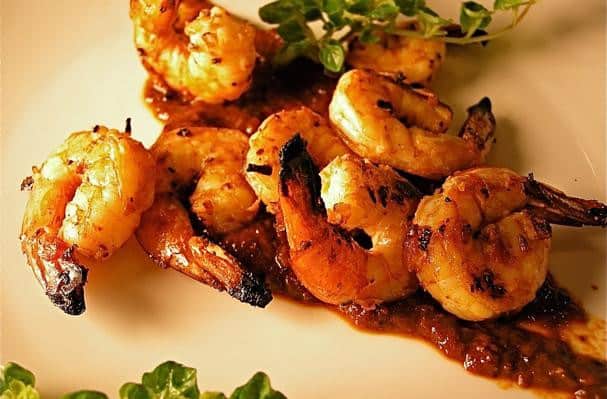 'o sole mio
the flip-flop-hot-dog days in june and july that spin us around the solstice make up my favorite part of the year. when the sun hovers at 23º 26′ 17″ north, these happiest of days stretch out long and lazy like a hammock strung between two trees. jim and i linger under the ceiling fans that circle bogus-breezes through our rooms, we eat smoky-sticky barbecued dishes hot off the grill, and float off for a nap under the leafy canopy of shade that loafs across our pool.
che bella cosa e' na jurnata 'e sole–
what a beautiful thing is a sunny day.
dried chilies can be hot or mild, fruity, spicy, and smoky.
to reconstitute: cover them in water in a small sauce pan and bring it to a boil. allow them to cool in their own liquid. remove the stems and seeds–chop or mince.
Ingredients
medium • 20-30 sized shrimp
tablespoon • several of brown sugar
• 2 ancho chilies, reconstituted and minced
• 2-3 large cloves of garlic, minced
• 5-7 slices of roasted tomatoes, finely chopped
tablespoon • 3-4 of lemon juice
cup • ⅓ to ½ of olive oil
• kosher salt and cracked pepper
cup • ⅓ of white wine or vegetable broth
Preparation
1. Light a fire in the grill
2. Mix all of the ingredient together in a medium bowl.
3. Toss the shrimp to coat it well, and allow it to marinate about 20 minutes.
4. Skewer the shrimp and set aside.
5. Put the remaining marinade into a saucepan on a medium flame.
6. Add the wine or broth and stir with a whisk to reduce and thicken.
7. Grill the shrimp until it is opaque.
8. Process the sauce in a blender and spoon some on a plate.
9. To serve, set the shrimp on the sauce and garnish with fresh herbs