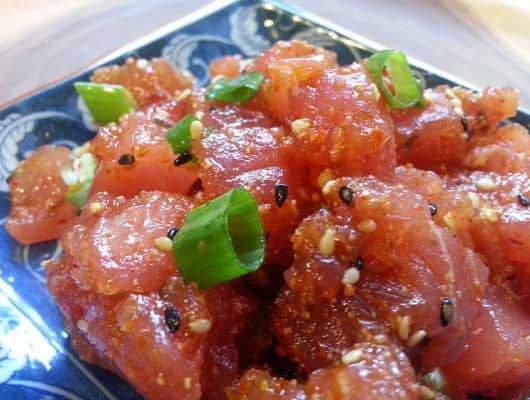 You can purchase Ogo Seaweed on Amazon.com.
Ingredients
1 tablespoon fresh ogo seaweed (see note above on where to purchase)
4 ounces fresh ahi tuna filets, cut into cubed
1 tablespoon onion, finely chopped
1 tablespoon green onion (scallion), finely chopped
2 tablespoons soy sauce or tamari (if gluten free)
1 teaspoon toasted sesame oil
1 handful fresh salad greens
Garnish with toasted sesame seeds.
Preparation
1. Place ogo in a bowl with water to rehydrate. After a few minutes, drain and pat dry.
2. To prepare the fish, combine the onions, ogo, soy sauce and sesame oil. Add the cubed fish to the sauce and mix well. The fish is served sashimi style (not cooked). Place poke on top of greens, garnish with sesame seeds, and serve.