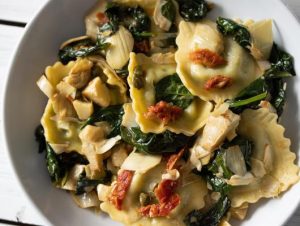 Ravioli with artichokes hearts, capers, sun-dried tomatoes, and spinach. A meatless meal that will keep you coming back for more.  The wonderful thing about this dish is that you can use any ravioli filling that you wish. I selected Spinach Ricotta, but four cheese, chicken, mushrooms, ham are all great choices too. Or you can even make your own homemade version of ravioli.  If you need a recipe to start,  you can use my version of Ravioli with meat, cheese, and spinach that has been posted on this blog.
Easy to assemble as all the vegetables are sauteed in oil while very quickly, as soon as the ravioli are done, they are added to the vegetables. Make sure you are using a large skillet to fit them with ease. This recipe takes less than 30 minutes from beginning to end.
Ingredients
1 pound Spinach Ricotta Ravioli
12 ounces artichokes hearts, chopped
¼ cup sun-dried tomatoes, chopped
3 tablespoons capers, drained
2 cups spinach, fresh washed and stem removed
1 tablespoon olive oil + more
¼ cup Parmigiano cheese, shredded
salt and pepper
olive oil
Preparation
1 Cook ravioli into salted water until al dente. Drain.
2 In a large skillet heat 2 tablespoons olive oil over medium heat. Add chopped artichokes hearts, sun-dried tomatoes, capers, and cook for 2 minutes.
3 Add fresh spinach to skillet and continue cooking until spinach wilts.
4 Add the ravioli to the skillet and add 1 tablespoon olive oil to cover the ravioli well. Serve hot divided amongst four dishes and sprinkle parmesan cheese over.