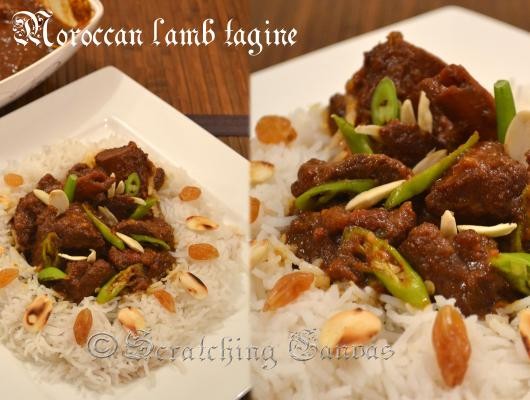 Today I'll share one awesome recipe with you: Tajine.This recipe belongs to North Africa's Berber cuisine. It is cooked in an earthen pot which is known as 'Tajine' and served within the pot itself. There are two different types of tagine recipes available, one is Moroccan Tagine (which I'm going to share today) and another one is Tunisian Tajine( I'll try this some other day).
This Moroccan Tajine is basically slow cooked meat with different veggies and sauce on very low flame. It takes hell lot of time to cook but once it is done, you will find out how worthy it is.
Ingredients
Lamb: 730 gms – 1 kg (trimmed and cut into bite size pieces)
Dry red chilli: 2-3 (optional; I used this to get a smoky flavor)
Cumin seeds: ½ tsp
Cloves: 5-6
Cinnamon stick: 1"
Peppercorn: 1 tsp
Carrot: ½ of a large (peeled, make a coarse paste of it with 1 fat garlic clove and pinch of paprika)
Onions: 2 (large; finely chopped)
Turmeric powder: ½ tsp
Coriander powder: ½ tsp
Fresh green chillies: handful (finely chopped)
Tomato puree: 2-3 tbsp
Dates: 50-60 gms (deseeded and halved)
Raisins/ Sultanas: 40-50 gms
Dried apricots: handful (cut into halves)
Almonds: handful (flaked and dry roasted)
Lamb broth: 500 ml
Saffron: 2 strands (soaked in 4 tbsp cold water)
White oil: 3 tbsp
Salt to taste
No sugar should be used for this recipe. All the sweetness should be consumed from dates and sultanas only. If you crave for more sweetness adjust the amount of those two ingredients.
Again no water should be used in this recipe. The only liquid which will adjust the consistency of the gravy is the lamb broth. Mixing of chicken broth or anything else is strictly no-no here.
Top of all we need to marinade the lamb the day before we wish to prepare this. Clean the lamb pieces under running water and pat it dry with the help of kitchen towel. Rub some salt on it and keep aside on a wire rack to drain the excess water.
In the mean while arrange the following ingredients in a large bowl.
Grated ginger: 1" (crushed)
Finely chopped/crushed garlic: 1 tbsp (I used 2 tbsp; if you don't get 'ga-ga' over garlic like me, feel free to reduce the amount)
Garlic powder: 1 tbsp
Turmeric powder: 1 tsp (initially it needed 1 tbsp; as I don't like the smell of it, I reduced it to 1 tsp)
Paprika: 1-1/2 tbsp (again, adjust to your taste buds)
Cayenne peppers: 1 tsp
Cinnamon powder: 1 tbsp
Cardamom powder: 1 tsp
Clove powder: 1 tsp
Black pepper powder: 1 tbsp
White pepper powder: 1 tsp
Cuming powder: 1 tsp
Coriander powder: 1 tsp
Preparation
1. Place the lamb pieces in the bowl and mix in a light hand. Place this bowl in the fridge, covered. Don't use the freezer. Let it rest for atleast 18 hrs or preferably overnight.
2. On the next day take out the lamb, give it a light massage with a tsp oil and handful of chopped green chillies and send it back to the sleep (in fridge ofcourse) for another 2-4 hrs.
3. Take a heavy bottomed nonstick pan, add rest oil. Let it warm and add dry red chillies, cumin seeds, cloves, peppercorns and cinnamon stick.
4. Once you can smell the aroma add onions and sauté for few seconds. Keep it on simmer, covered and leave for 30 mins. Let it cook on its own juice. Keep peeping so that it doesn't get burnt.
5. Once you can spot onions are changing its color, add pinch of turmeric powder, coriander powder and fry a little.
6. Add carrot-garlic paste and keep frying.
7. Once you spot the dark red color, add tomato puree and keep frying.
8. After few mins you will see the oil is oozing out at the edge.
9. This is the time to add the meat. Keep stirring the meat with the mixture until you feel immense pain in your hand (just kidding, but it's true that this process is very painful). Ofcourse you can take rest but keep an eye on it and don't let it burn.
10. Once the lamb starts changing its color add dates, sultanas, dried apricots, soaked saffron and keep stirring.
11. Continue cooking with covered on simmer.
12. Around 1.5 hrs you will see the gravy is again changing the color to some dark rich red. Also you will be able to spot the floating oil. Add rest of the green chillies and half of the roasted almond flakes. Again keep stirring.. stirring.. Continue unless your hands need a break.
13. This is the time to check seasoning and consistency of the gravy. Add lamb broth to make thin gravy.
14. Keep it covered on simmer until lamb is butter-tender yet very moist. It will take approximately 2.5 hrs or more to be cooked with the entire recipe.(from beginning to end)
15. Now prepare a bed of rice with roasted almond flakes and raisins and place your lamb pieces on it. Arrange more almond flakes and chopped green chillies on top of it. Serve immediately.
16. Enjoy your tajine over a glass of fine wine.