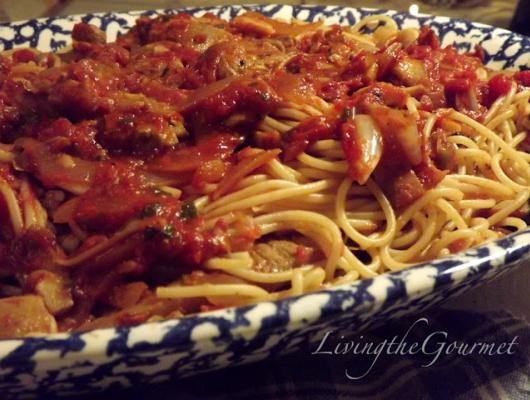 This is easy to make and delicious way to use up left over meat. Serve this dish with a colorful tossed salad and a good loaf of bread.
Ingredients
9 oz. box of frozen artichoke hearts
29 oz can of crushed tomatoes
1 onion – sliced
6 cloves of garlic – chopped
¼ cup of wine
Pinch of sugar
Black pepper
Salt
Ground oregano
Paprika
Red pepper flakes
Left over pork or beef slices
Olive oil
Romano cheese for grating
1 lb. of your favorite spaghetti
Preparation
1. Defrost the artichoke hearts.
2. Heat a sauce pan with a drizzle of olive oil. Add the onion and the artichoke hearts. Sauté until the onion is slightly clear and the artichoke hearts get a little golden color. Add the garlic and continue to sauté until fragrant.
3. Add the crushed tomatoes and continue to gently simmer.
4. Add the pinch of sugar and all of the seasonings. Add the left over pork or beef slices. Add the wine and continue to gently simmer for at least one hour.
5. Prepare the spaghetti as directed.
6. Drizzle a litle olive oil on a serving platter. Lift the cooked spaghetti from the water and place the spaghetti on the platter. Drizzle a little more olive oil on top of the spaghetti. Top with a few dashes of red pepper flakes and toss. Top with the sauce and grating cheese and toss.