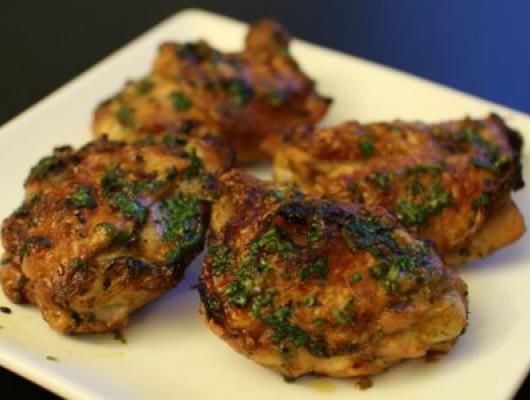 This is an easy recipe for chicken thighs that's Asian-inspired. The marinade is tangy and spicy, and with a hint of nuttiness from the sesame oil. Adjust the amount of chili flakes and sriracha to your liking!
Ingredients
4 bone-in, skin-on chicken thighs
-For the Marinade-
1/3 cup canola oil
1 tablespoon Asian fish sauce
1 tablespoon Asian chili flakes in oil
1/4 cup cilantro leaves, finely minced
3 garlic cloves, finely minced
1 teaspoon sesame oil
1 teaspoon grated lemon zest
1 teaspoon grated lime zest
black pepper
sriracha
Preparation
1. Stir together all the marinade ingredients.
2. In a small container, refrigerate 3 tablespoons of the marinade to drizzle over cooked chicken.
3. Wash the chicken thighs and pat dry with a towel.
4. For marinading the chicken thighs, place the thighs in either a container with lid or large ziploc bag.
5. Pour Spicy Thai Marinade with Cilantro over the chicken and mix well.
6. Refrigerate at least 4 hours or preferably overnight/24 hours.
7. Adjust the oven rack to top third, so it's about 8 inches from the top heating element.
8. On a broiling pan, place thighs skin side down.
9. Broil, 16 – 18 minutes.
10. Flip the thighs so skin side is up.
11. Broil, 12 – 14 minutes.
12. Serve with the side of reserved 3 tablespoons of marinade.