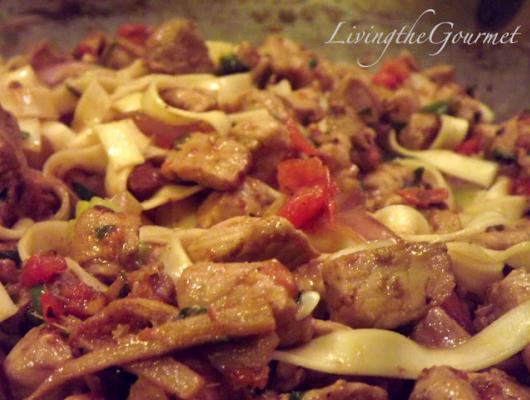 This is a tasty and unique dish for any night of the week.With Love,
Ingredients
2 lbs pork – sliced thin or cubed
Marinade:
4 cloves garlic, crushed and chopped
Zest of ½ orange
2 tablespoons soy sauce
2 tablespoons teriyaki sauce
1 tablespoon Hoisin sauce
1 teaspoon ground fresh chili paste
Juice of ½ lime
1 teaspoon sesame oil
2 tablespoons sesame seeds
Fresh Cherry Tomato Sauce:
1 bunch scallions – chopped
4 cloves garlic – chopped
½ red onion, chopped – sliced
1 pint cherry tomatoes
Healthy handful of parsley
1 piece of ginger – grated
Dashes for salt
Black pepper
Red pepper flakes
Dried oregano
1 lb. of your favorite noodles
Olive oil
Preparation
1. Combine all of the ingredients for the marinade in a bowl. Add the pork and refrigerate for at least one hour.
3. Place tomatoes and parsley in a food processor and give a few good chops.
4. Heat a medium sized frying pan with a drizzle of olive oil. Add the sliced onion, ginger and garlic. Sauté until the garlic and ginger are fragrant and the onion softens.
5. Add the tomatoes and parsley and continue to gently simmer while sautéing the pork.
6. Add the seasonings to taste.
8. Heat a large frying pan with a drizzle of olive oil.
9. Carefully place pieces of the pork in the heated frying pan. Do not overcrowd the pan.
10. Sauté until the pork is a beautiful golden color is reached and the pork is cooked.
11. Prepare the noodles as directed.
12. Add the pork to the sauce.
13. Drizzle a little olive oil on a serving platter. Plate the noodles on the platter, top with the sauce and gently toss.