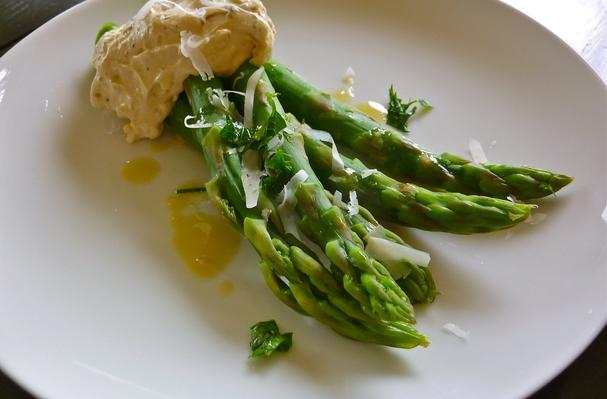 Courtesy of Mario Batali, this recipe is the perfect way to show case your spring asparagus. The only change i made from the original recipe was to add a little more pecorino cheese to add a sharp saltiness.
This recipe can be mostly made ahead and will wow your guests!
Ingredients
---
Kosher salt
24 jumbo asparagus spears, trimmed and bases peeled
1 shallot, minced
2 tablespoons sherry vinegar
1 teaspoon prepared mustard
1 2/3 tablespoons freshly ground pepper, plus more to taste
6 tablespoons extra-virgin olive oil
5 egg yolks
2/3 cup Marsala
1/2 cup heavy cream
6 tablespoons freshly grated Pecorino Romano cheese
10 flat-leaf parsley leaves, finely shredded
Preparation
---
1. Bring 6 quarts of water to a boil and add 2 tablespoons of salt.
2. Set up an ice bath nearby.
3. Blanch the asparagus in the boiling water for 90 seconds. Using tongs, transfer the asparagus to the ice bath. Let cool, then transfer the asparagus to a plate lined with paper towels. Reserve the ice bath.
4. In a small bowl, combine the shallots, sherry vinegar, mustard, and salt and pepper to taste.
5. Gently whisk in the olive oil until the mixture is emulsified. Set aside.
6. To prepare the zabaglione, in a stainless-steel bowl, whisk the egg yolks, 2/3 tablespoon of the pepper, and the Marsala until foamy.
7. Place the bowl over simmering water and continue whisking until the mixture is thick, about 10 minutes.
8. Set the bowl over the ice bath and whisk until chilled, 4 to 5 minutes.
9. Whip the cream until stiff peaks form. Carefully fold the whipped cream, 4 tablespoons of the Pecorino Romano, and 1 tablespoon of the pepper into the chilled zabaglione.
10. Refrigerate until ready to serve.
11. To assemble the dish, place 6 spears of asparagus on each of 4 chilled dinner plates. Stir the parsley into the vinaigrette and drizzle it around and across the asparagus.
12. Spoon a dollop of the zabaglione onto each plate and sprinkle with the remaining tablespoon of cheese and parsley. Serve immediately.
Credit: Foodista