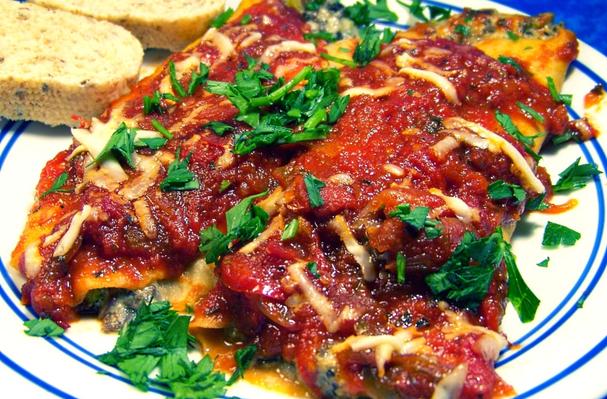 The flavors were more than I could have hoped for, earthy, slightly sweet and wonderfully creamy. It was very filling as well! I figured on two of the cannelloni as a serving, but all of us were full after the first one! One cannelloni worked out to be only 258 calories with 11 grams of fat and 4 of fiber. The individual parts were 56, 1, and 1 for the crespelle; 137, 9 and 1 for the filling; and 65, 1, and 2 for the sauce.
Ingredients
For the crespelle
3/4 cup egg substitute (3 eggs)
1 cup whole wheat pastry flour
1 cup water
1/2 teaspoon salt
For the filling:
2 teaspoons olive oil
8 ounces goat's milk ricotta (you can substitute low-fat
8 ounces part-skim mozzarella, shredded
8 ounces brown mushrooms, thinly sliced
1 bunch asparagus (about 16 stalks), woody parts removed and finely chopped
2 tablespoons Italian parsley, chopped
salt and pepper to taste
For the marinara:
2 teaspoons olive oil
1 medium green pepper, thinly sliced
1 medium red pepper, thinly sliced
1 medium onion, thinly sliced
4 cloves garlic, minced
29 ounces crushed tomatoes
6 ounces tomato paste
1/2 cup red wine
1/2 cup balsamic vinegar
1 teaspoon dried basil
1 teaspoon dried oregano
1/2 cup pecorino or Parmesan cheese, shredded (for topping)
1/2 cup Italian parsley, chopped (for topping)
Cannelloni
Preparation
2. In a medium saucepan, heat oil over medium-high heat. Add peppers and onion and saute until tender. Add garlic and saute for about 1 minute. Add tomatoes, paste, wine, balsamic, basil and oregano and bring to a boil. Reduce heat to a simmer, cover and let cook at least 30 minutes. (Longer is better, so stretch it out as long as you can!)
3. Meanwhile, whisk together crespelle ingredients. Heat an 8-inch skillet over medium-high and lightly oil. Pour just under 1/4 cup of batter (about 3 tablespoons) into skillet and roll to cover the bottom evenly. Cook until top is just dry, about 1 minute. Flip and cook and additional 30 seconds. Repeat, separating crespelle with wax paper.
4. Once your crespelle are made, heat oil for your filling in a large skillet over medium-high heat. Add mushrooms and saute until tender. Add asparagus and continue to cook until moisture is cooked down. Pour mushrooms and asparagus into a bowl and allow to cool. Mix in cheeses.
5. Preheat oven Spoon about 3-4 tablespoons of filling into each crespelle, roll tightly and place in a 9×13 casserole dish. Top with sauce and pecorino and Parmesan, bake for 15 minutes. Remove from the oven and let rest 5 minutes before serving.
6. Serve topped with chopped parsley.