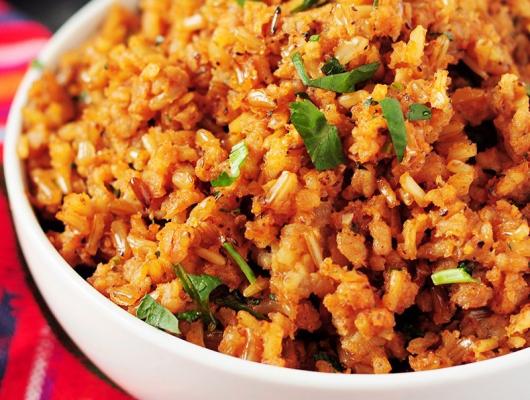 A detailed step-by-step guide on how to make Mexican rice that's authentic, healthy, and addictive every single time. Recipe included.
Ingredients
1 (28-ounce) can fire roasted whole peeled tomatoes
1 medium white onion, roughly chopped
1/3 cup avocado oil
2 cups brown rice
1-2 red chili peppers or jalapeño peppers, seeded and finely chopped
5 garlic cloves, minced
2 cups chicken bone broth
1 1/2 teaspoons kosher salt
1/2 teaspoon ground cumin
1/4 cup finely chopped cilantro
Juice of 1-2 limes
Preparation
1. Purée tomato and onion in a food processor. You'll need 2 cups of the mixture and preserve the rest for later or for a Mexican-style chicken soup.
2. In a medium saucepan, heat avocado oil over medium-high heat for about 3 minutes. Toast brown rice in the oil, stirring frequently until it's lightly toasted, about 8-10 minutes. Add chili peppers and garlic, stir until combined.
3. Pour 2 cups of the tomato mixture and chicken bone broth into the saucepan. Stir in salt and cumin. Bring to a boil, then reduce heat to low and cover. Cook for 45 minutes, undisturbed. (Do not uncover the pot to check the rice during cooking.)
4. Remove from heat and let it stand for 10-15 minutes. Stir in chopped cilantro and lime juice. Enjoy!