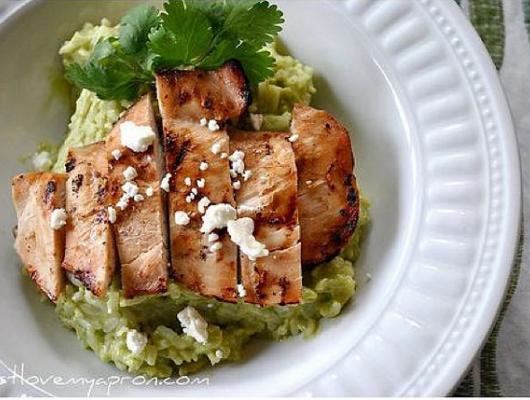 Avocado and feta cheese appear in several salad dishes. So, I assume they would get along well like good friends..by that I mean-the 2 flavors are able to incorporate in some way. I'm satisfied with the dish and I hope you will be! The ingredients I put together might not make any sense in the world to some people but It tastes good! Creamy rice and grilled chicken rock my world.
Ingredients
For the avocado & feta cheese creamy sauce:
Yield: 1 Cup
2 avocados, diced
1/4 cup feta cheese, crumbled
1/4 cup Parmesan cheese, grated
1/4 cup canned coconut milk
2 tablespoons lime juice
1/4 teaspoon cumin
1/4 teaspoon smoked paprika
1/4 teaspoon chili powder
1/4 teaspoon cayenne pepper
1 teaspoon garlic powder
1 tablespoon chopped cilantro
1 tablespoon minced fresh ginger
1 teaspoon kosher salt
For the chicken:
4 pieces Chicken Breast Fillets, Boneless And Skinless
½ cups Store-bought Sesame Ginger Marinade
For the rice:
4 cups Jasmine Long-grained Rice
4 cups Water
Optional Garnishes: Feta Cheese, Cilantro
Preparation
2. Add ginger and cilantro into a food processor. Pulse 5 times until they are finely chopped
3. Add avocado, lime juice, coconut milk, feta and Parmesan cheese; blend until they are mixed
4. Add spices-cumin, chili powder, paprika, cayenne pepper, garlic powder, and salt; pulse 5 times.
6. Mix 1 cup of rice and 1/4 cup of the sauce. Rice will have greenish color.
7. This is real simple! I save time by buying ready-use sesame ginger dressing for marinating the meats as shown in the photo. This marinate/dressing is one of my favorites. I picked this dressing because I'd like to have Asian touch and the ginger will tie well with the creamy sauce that contained ginger
8. Marinate chicken breast fillets for at least 4 hours or overnight. Grill at 375 F hi heat for 10-15 mins until it's cooked through, or to your desire of doneness. When it's about to be done, brush the leftover marinate on both sides of chicken. Cook for a few mins and turn off the grill.