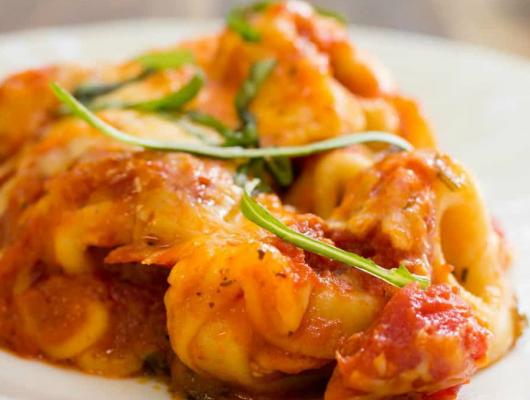 Baked tortellini is a super easy dish to whip together, and is loaded with veggies and cheese. Some call it "lazy-man's lasagna", some call it "Italian Meatloaf", I call it DELICIOUS.
Ingredients
1 19 ounce bag frozen cheese tortellini
8 ounces mozzarella cheese sliced
Sauce
1/4 cup olive oil
2 teaspoon Gourmet Garden chunky garlic paste or 2 teaspoons fresh chopped garlic
1 28 ounce can Hunt's tomato sauce (you can sub a different type but the end result will be different. Different tomato sauce brands contain drastically different amounts of sugar, salt, and other seasonings and make a huge difference.)
1 tablespoon sugar
1 tablespoon Gourmet Garden Italian Herbs paste or 1 teaspoon dried Italian Herb blend
2 teaspoons Gourmet Garden Basil or 3/4 teaspoon dried basil
1/2 cup fresh grated Parmigianno Reggiano or grated parmesan if you are in a pinch!
Garnish with Gourmet Garden Lightly Dried Basil
Meat Layer
1 pound ground beef
1 cup Italian bread crumbs
1/2 cup finely diced vidalia onions
1/4 cup finely diced fresh parsley
2 cloves garlic minced
1/2 cup shredded parmesan cheese
1 egg lightly beaten
1/4 cup whole milk
Spinach
1 – 8 ounce bag frozen chopped spinach
1 – 2 tablespoons olive oil
1 teaspoon minced garlic
1/3 cup heavy cream
1/8 cup chicken stock
pinch nutmeg
Preparation
2. For the sauce, heat olive oil over medium low heat and add the garlic paste or fresh garlic to the oil. Stir frequently and cook for 1 minute. Add in tomato sauce, sugar, and the rest of the herbs. Reduce heat to low, and simmer for 15 minutes. Add in the parmigiano during the last 5 minutes, stir to combine.
3. Mix together the meat ingredients, and place into a greased 9×9 pan.
4. In a medium skillet combine the olive oil, garlic, cream, chicken stock, and nutmeg. Simmer for 2-3 minutes. Break up the frozen chopped spinach in the bag by banging it against the counter a few times.
5. Place the spinach over the top of the meat mixture in the pan. Drizzle the spinach sauce over the spinach.
6. Place the frozen tortellini on top of the spinach mixture. You may not be able to fit the entire bag on the pan.
7. Top with as much of the sauce as you can fit into the pan, and cover with cheese.
8. Bake at 350 for 40-50 minutes. Remove from oven, let sit for 10 minutes. slice and serve.