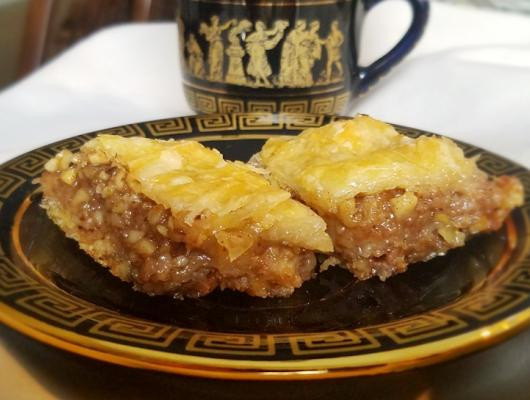 Greek Baklava! The ultimate in Greek desserts with flaky, buttery filo dough, nuts, cinnamon and honey! Delicious and decadent! A perfect dessert for your Valentine's Day dinner!
Ingredients
Syrup:
1 1/2 Cups Water
1 1/2 Cups Sugar
1/2 Cup Honey
1/2 Cup Orange Juice
Baklava
1 Pound Filo
3/4 Cup Melted Butter
1 Pound Walnuts, chopped
1/2 Cup Sugar
1 Tablespoon Cinnamon
Preparation
1. In a medium sized sauce pan, whisk together water, sugar, honey and orange juice over medium high heat.  Bring to a boil; turn heat to medium low and let simmer for 15 to 20 minutes.  Let cool.
2. Heat oven to 350 degrees.  Chop the nuts in a food processor; place in a medium bowl.  Add the 1/2 cup of sugar and the cinnamon.  Set aside.
3. Butter a 9″ x 13″ baking pan.
4. Add 8 to 10 sheets of filo, buttering each sheet.
5. Sprinkle about 2/3 cup of the nut mixture over the buttered filo then cover with a sheet of filo.
6. Butter the filo and add another 2/3 cup of the nut mixture.  Alternate nuts and filo, buttering each sheet.  Save 8 to 10 sheets of filo for the top.  Butter remaining top sheets as you did the bottom ones.
7. Cut into diamonds with a long sharp knife. Start at one corner and make diagonal cuts about 1″ apart. Repeat on the other side.
8. Bake at 350 degrees for one hour or until golden brown
9. Remove from oven and evenly pour cold syrup over the hot baklava.  Let stand for one to two hours.  At this point, baklava can be cut into individual diamond shaped pieces and served or refrigerated
10. This recipe makes one 9″ x 13″ pan or about 42 diamond shaped pieces.