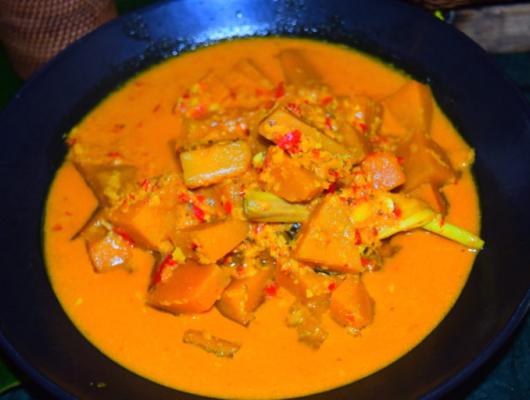 This delicious recipe was one that we were taught in a Balinese cooking class at Casa Luna Cooking School last week. It's so easy to make and really flavoursome. We're not massive fans of really spicy food so this dish was perfect as it's not too hot.
Most of the ingredients are readily available in the UK, but incase you struggle to get hold of any we've added substitutes which should work just as well. Hope you enjoy!
Ingredients
3 tbsp. coconut oil
250g/8.8 oz pumpkin, chopped into 2-3cm cubes.
3 salam leaves (or 1 bay leaf)
3 lime leafs (available at most asian food markets, but if you can't get hold of these you can substitute for zest of 1 lime)
2 lemongrass, knotted
355ml/12fl oz of water
120ml/4 fl oz coconut milk
1 tbsp. fried shallots
For the spice paste:
3 garlic cloves
1 long red chilli, seeded and chopped
1 large tomato, chopped
1 lemongrass stalk, roughly chopped
1 1/2 tbsp. chopped galangal (this is a type of ginger available from Ocado)
2 tsp. turmeric
2 tsp. chopped ginger
3 candle nuts (or macadamias, almonds or brazil nuts)
3 tsp. grated palm sugar (or maple syrup)
2 tsp. coriander (cilantro) seeds
Preparation
1. Start by making the spice paste. In Indonesian cooking this is done using a mortar, but an easier and quicker alternative is to use the food processor. Blitz all the ingredients until well combined into a golden yellow paste flecked with chilli and tomato skin.
2. Heat the coconut oil in a wok over a medium heat and fry the spice paste for 30 seconds. Add the salam leaves (or bay leaf), lemongrass and lime leaves (or zest) and toss for 30 seconds.
3. Add the chopped pumpkin to the wok and fry for 1 minute, then add the water and simmer until the pumpkin has softened and cooked.
4. Add the coconut milk and fried shallots and gently simmer for 1 minute, until slightly thickened then serve with steamed rice.