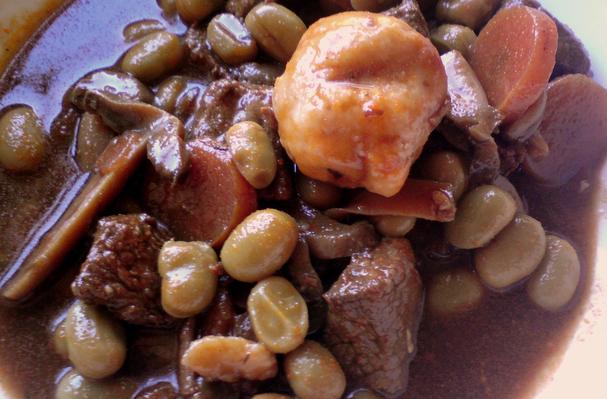 I made this dish on pure culinary instinct. No recipe, just experimenting with flavours.
It was a case of 'what's left in the freezer and cupboard before the monthly food shopping trip'
I found some Stewing beef, broad beans, carrots, onions and this was the result 3 1/2 hours later.
Tasted really delicious too.
Did something I hadn't done before-Coated beef in a mixture of light flour, crushed garlic, salt, pepper, paprika and refrigerated it overnight.
The result was excellent and not only did the seasoning flavour the meat but if also tenderised it beautifully, ready to cook in the casserole.
Ingredients
Meat seasoning
500 grams of beef
1 tablespoon flour
salt and white pepper
1 teaspoon paprika
1 crushed garlic
Casserole
1 sliced onion
2 cloves of crushed garlic
2 sliced carrots
500 grams mushrooms
2 cups of frozen broad beans
1 tablespoon flour
1 teaspoon Worcester sauce
1 can chopped tomatoes
500 ml good quality beef stock
1 teaspoon sweet paprika
2 large bay leaves
1 pinch of the following-thyme, rosemary and oregano
salt and pepper to taste
English Dumpling mix-optional
Preparation
1. I haven't got a dutch oven-saving up for one!- but if you do I would highly recommend you cook all of it in the dutch oven. Unfortunately I had to do it in a frying pan before transferring into the casserole dish to go in the oven.
2. Dice the meat and coat it in the seasoning.
3. Refrigerate overnight.
4. Pre-heat the oven to 160 degrees or medium heat.
5. In a large frying pan, fry the meat-seasoned- until brown in some oil. Set the meat aside.
6. Fry the onions and carrots in the same frying pan-with the meat juices.
7. Add the garlic and fry until the vegetables begin to soften.
8. Add the flour and cook gently into the veg.
9. Add canned tomatoes, paprika, bay leaves and herbs.
10. Add the meat to the mixture.
11. Incorporate it all well and cook for 2 minutes.
12. Add the stock, mushrooms and broad beans.
13. Add Worcester sauce and season well.
14. Transfer into a casserole dish and place in the oven.
15. Cook for approximately 2 1/2 to 3 hours.
16. If making English dumplings, add these half an hour before finishing cooking.
17. Serve with freshly baked warm bread rolls and enjoy!