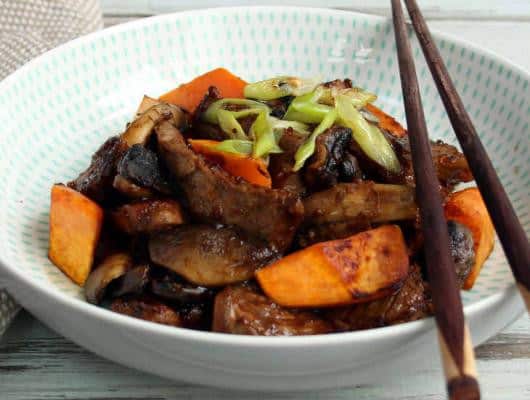 DESCRIPTION: This delicious beef teriyaki stir-fry recipe has the unconventional addition of sweet potatoes to add some substance.
Ingredients
2 Tablespoons of coconut aminos (30 ml)
1 Tablespoon of applesauce (15 ml)
2 cloves of garlic (6 g), peeled and crushed
2 teaspoons of fresh ginger (3 g), minced
2 beef sirloin steaks (400 g), fat trimmed and sliced
1.5 Tablespoons of olive oil (23 ml)
1 small sweet potato (130 g), peeled and cut into chunks
10 white button mushrooms (100 g), sliced thick
2 green onions (10 g), sliced at an angle
Preparation
1. Preheat the oven to 350°F (180°C).
2. Whisk the coconut aminos, applesauce, garlic and ginger together in a bowl. Add the sliced sirloin and leave to marinate while you cook the sweet potatoes.
3. Toss the sweet potato chunks in half a tablespoon olive oil. Season with salt and spread out on a greased roasting tray. Bake in the oven until softened, approximately 25 minutes.
4. Heat the remaining olive oil in a large wok and add mushrooms, cooking until caramelised. Add the steak and the marinade and fry for 2-3 minutes. Stir in half the spring onions and add the cooked sweet potato chunks.
5. Serve topped with the remaining spring onions.