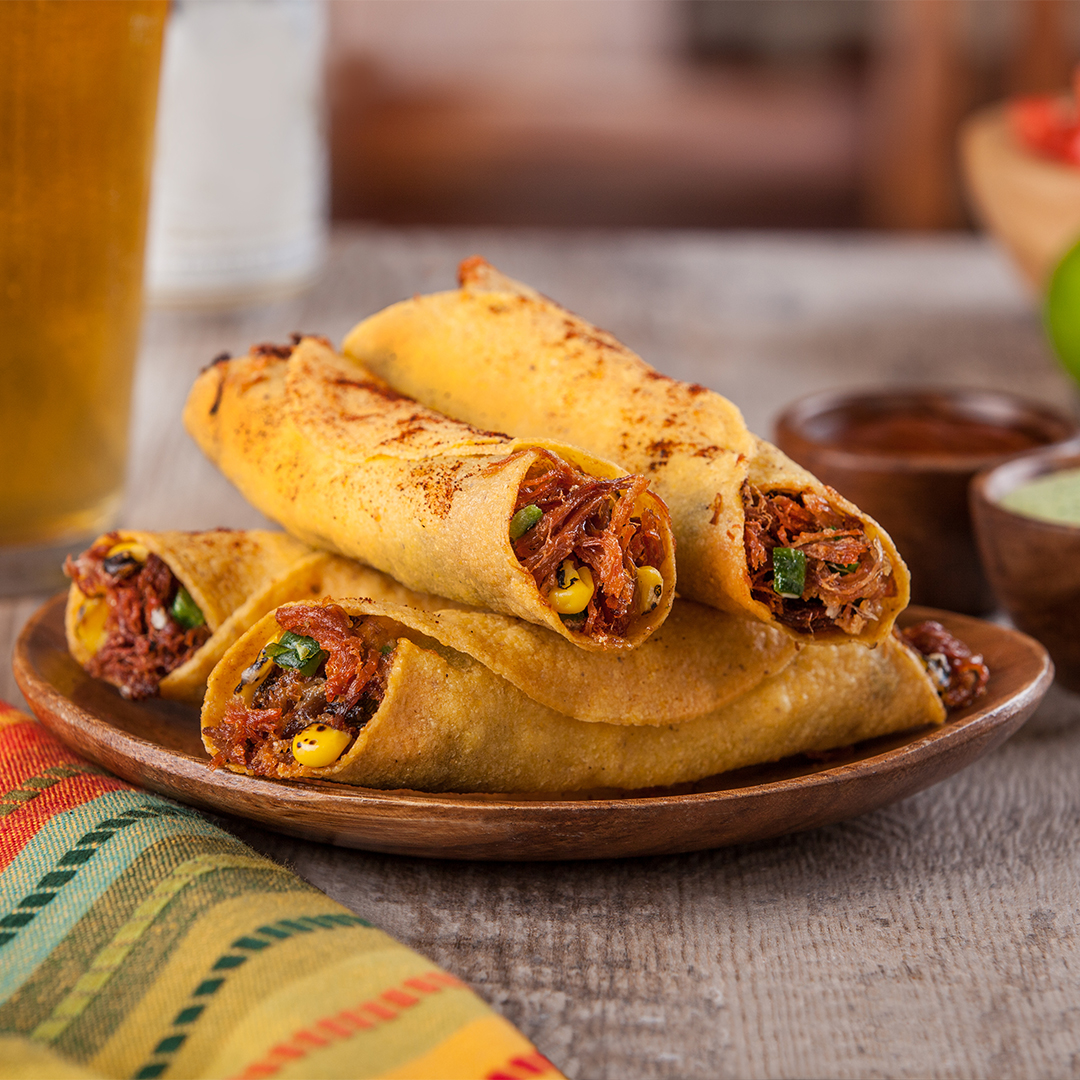 One pot, three cooking methods, and 20 crispy Mexican taquitos. With this recipe, the Instant Pot shows off its versatility by combining sautéing, pressure cooking, and air frying to create a scrumptious appetizer that could also double as dinner. Minimal prep, even less to clean, plus it comes from the Official Instant Pot Culinary Team! It doesn't get any better than this.
INGREDIENTS

2

 

lbs

 

beef chuck

 

or brisket

1

 

tbsp

 

garlic

 

minced

1

 

cup

 

white onion

 

chopped

1

 

cup

 

Canned tomatoes

 

chopped

sea salt

 

to taste

black pepper

 

to taste

1

 

tbsp

 

lime juice

2

 

tbsp

 

orange juice

2

 

tbsp

 

olive oil

2

 

tsp

 

chipotle

1

 

tbsp

 

smoked paprika

1

 

tbsp

 

garlic powder

1

 

tbsp

 

ground cumin

1

 

tbsp

 

chili powder

4

 

cups

 

beef broth

20

 

Mini tortillas

1/2

 

cup

 

cilantro

 

chopped

2

 

cups

 

Mozzarella and cheddar cheese

 

shredded
INSTRUCTIONS
Turn on your instant pot and set it to Sauté on High, drizzle with olive oil.

While you wait for the oil to heat up, season your meat with salt, black pepper and smoked paprika.

Place the meat inside the inner pot. Do not move it for a couple of minutes until well-seared and browned (if the meat sticks to the inner pot, let it sit for a while longer — the meat will naturally release from the surface of the pot when ready). Sear beef on all sides.

Using tongs take the meat out of the pot and set aside. Add in the chopped onions, minced garlic and sauté until translucent.

Add the tomatoes and the rest of the spices with the lime and orange juices. Stir to combine them all.

Place the beef on top of the mixture and add the beef broth, making sure that the liquid covers at least half of the meat. Use the pressure cook lid and close the pot. Ensure the steam release handle is in the "sealed" position.

Select Pressure Cook on High and set for 35 minutes.

When the cooking time is complete, Quick Release the pressure.

Carefully take the meat out and shred with a fork. Let it cool.

Empty the inner pot, rinse, and dry it.

Put the inner pot back and place your Duo Crisp air fryer basket in with the dehydration rack, or a trivet if using an Air Fryer Lid.

In a large bowl, mix the beef, cheese, and chopped cilantro.

Place the filling in a corner of the tortilla and roll it.

Place the taquitos in the dehydration rack and use the air fry lid. Select Broil for 5 minutes.

Use the tongs to take the taquitos out of the basket and enjoy.
RECIPE NOTES
Serve with your favourite dip.
Did you make this recipe? Please rate and comment!