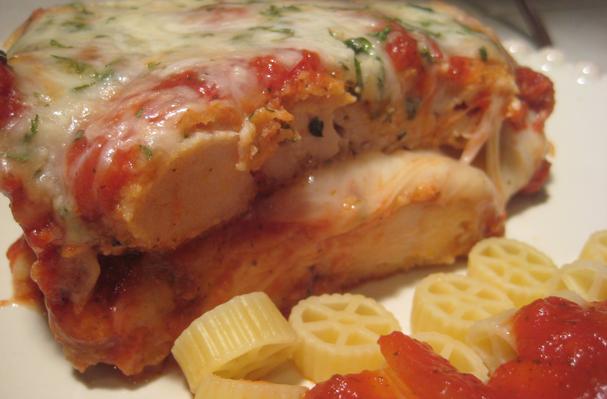 Chicken Parmesan is a true Italian comfort food! It is great to serve at a dinner party. I love to eat Chicken Parmesan, with a fresh green salad and some crunchy garlic bread! It is time consuming, but Chicken Parmesan can be made days in advance. I make 2 batches and freeze one for another meal!
Ingredients
8 (3-ounces each) chicken cutlets
1/2 cup flour
3 eggs beaten
2 cups Italian style bread crumbs
vegetable oil for frying (you can bake them too, but they're better fried!)
4 cups mozzarella cheese (depending on how much cheese you like)
1/2 cup Parmesan cheese (Grated fresh, not from a green can)
quart and ½ (48 oz) Marinara sauce
Preparation
1. Depending on how think your chicken breasts are, place them under plastic wrap and pound until thin. If you don't have a meat pounder, use a heavy pot of skillet. You can also fillet these with a knife.
2. Get 3 pie plates or containers. Put flour in one, beaten eggs in one and bread crumbs in one.
3. Dredge chicken breast in flour, then in the egg wash, and then the bread crumbs.
4. Fry cutlets in vegetable oil over med heat. Fry until golden brown.
5. Spread a little marinara on the bottom of a 13×9 baking dish.
6. Make a layer of chicken. Add more marinara. Use most of the first quart. Add a layer of the cheeses. Repeat layers. Sprinkle parsley over last layer of cheese. Bake in a pre-heated 350 degree oven covered for 35 minutes. uncover and bake until top is bubbly!