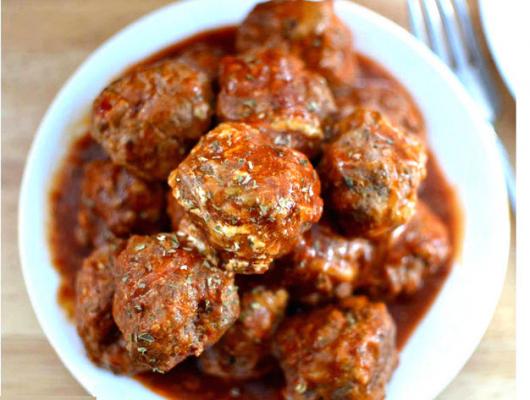 Bobby Flay's meatball (and sauce) recipe is a perfect combination of ingredients and flavors, this will be your new go-to meatball recipe!
Ingredients
Meatballs
½ pound ground beef
½ pound ground pork *see notes
½ pound ground veal *see notes
2 large eggs, lightly beaten
¼ cup grated Parmesan cheese
4 cloves garlic, finely chopped and sautéed
¼ cup dry bread crumbs
¼ cup finely chopped parsley
Salt and freshly ground pepper
1 cup olive oil
Homemade Sauce
2 tablespoons olive oil
1 large Spanish onion, finely chopped
4 cloves garlic, finely chopped
2 (28-ounce) cans plum tomatoes and their juice, pureed in a blender
1 bay leaf
1 small bunch parsley
Pinch red pepper flakes
Salt and freshly ground pepper
6 basil leaves, chiffonade
Preparation
2. Combine all ingredients, (except the oil), in a large bowl until well-combined.
3. Heat the oil in a large sautee pan over medium heat and add the meatballs. Let them fry, cooking on each side until lightly browned, but not cooked all the way through. About 10-15 minutes.
4. Add the meatballs to tomato sauce and let them simmer on medium low heat for about 45 minutes.
6. In a medium saucepan, heat the olive oil on medium heat. Add the onions and garlic until they're softened- about 15 minutes.
7. Add the pureed tomatoes and juice, the bay leaf, parsley, red pepper flakes, salt, and pepper.
8. Bring the sauce to a boil, then reduce the heat and let it simmer for about 40 minutes (with the meatballs in there!)
9. Remove the bay leaf and parsley prior to serving, and mix in the basil. Serve, and enjoy!