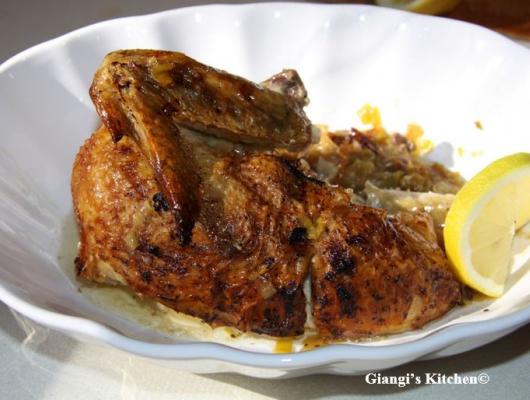 Brillat-Savarin once said " Poultry is for the cook what canvas is for the painter". I truly believe that as I have made more recipes with chicken than any other meats. Last night was no exception.
Thanks to my favorite gentleman, Pete at Personal Gourmet Foods , I always have a well stocked freezer and chicken is a staple, a most. Easy to be creative.
The recipe that follows was created as I was going along. I love lemon chicken and I love leeks in the winter, combining the two was a quick decision.
The relish that was created while cooking from the combination of the two was a great compliment to the chicken. Sweet and tangy.
While I had the oven on, I crushed a couple of garlic cloves, seasoned well the broccolis with olive oil, salt and pepper and place them in a cookie sheet. In the oven they went for 15 minutes while the chicken was finishing cooking.
I hope you will enjoy this meal as much as we did.
Bon Appetit!!Giangi.
Ingredients
1 whole boneless chicken, skin on
2 medium leeks, white part only thinly sliced
3 lemons: 2 sliced thinly and 1 juice squeezed
3 garlic cloves, peeled and hard end removed
½ cup white wine
Salt and pepper
Butter
Preparation
2. Butter an ovenproof roasting pan. Cover the bottom of the roasting pan with the thinly sliced lemons and add the thinly sliced leeks over it.
3. Pat the chicken dry, salt and pepper all over, Place the chicken on top of the leeks. Salt and pepper generously. Add the garlic cloves, juice from 1 lemon and the white wine around the chicken.
4. Place in the warm oven and lower the heat to 350°.
5. Check while cooking to make sure that the lemons and leeks do not burn and baste the chicken with juices every 15-20 minutes. Add more wine if needed.
6. Once the chicken is nice and golden, 45 to 50 minutes and no more juices are running when pierced, remove from the oven and let sit covered for 5 minutes before serving.
7. Cut into 4 pieces and serve with the leeks and lemons relish.